Prevent Future Illness By Knowing Your Family Health History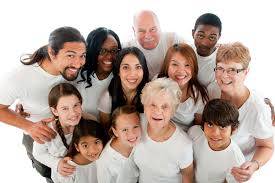 Families have many factors in common, including their genes, environment and lifestyle. These three things combined allow your doctors to understand if you, your family members or future generations could have a higher risk for developing certain diseases so you can get additional screenings to possibly prevent them. It does not mean you will definitely develop a condition, so knowing your family history is not something you should fear.
According to a study conducted by Center for Disease Control (CDC), 96 percent of Americans believe knowing their family history is important, but only one third have actually gathered the information.
Use these helpful tips to collect and share your family health history.
Use time spent with family to start the conversation. Casual family get-togethers are the perfect place to gather information from the most important people to your history—your parents, your siblings and your children, if you have them—before knowing the information becomes a necessity. You likely already know many of the answers to immediate family, but they are a great resource for learning about grandparents and extended family like aunts and uncles.
Know the right questions to ask. Apart from asking which chronic diseases and illnesses family members have had, it's also beneficial to know when the conditions were diagnosed and what the outcome of treatment was. Consider family members who have passed and what the cause of their death was at which age. Many people do not think of family heritage as a factor in health, but some diseases occur more commonly in certain groups of people, and you should be aware what those conditions are.
Keep records of the information you discover. Health history can be a lot of information to track. Free, online tools like this one from the U.S. Surgeon General can help you stay organized and share the information with your family. You should review and update these records as family health changes, so future generations and extended family can benefit.
Share updated family heath history with your doctor. It is important to communicate the information you learn with your doctor proactively so he or she can identify potential health risks and begin any steps toward prevention. Sharing these details also helps your doctor understand your family's beliefs about the illness and your response to medical advice for future treatment plans.
Reference-Kindred Health Care
http://www.kindredhealthcare.com/what-we-do/patient-and-caregiver/blog/2016/09/01/prevent-future-chronic-illness-by-collecting-your-family-health-history/
ABOUT MICHIGAN SPORTS & SPINE CENTER:
We're innovative leaders utilizing cutting-edge technologies such as musculoskeletal ultrasounds, PRP, stem cell treatment, and other innovative procedures. Michigan Sports & Spine Center is committed to resolving your pain, not simply masking it. We treat the whole body, not just the injury, and perform preventative treatment so your injury doesn't come back. Our studies prove that Michigan Sports & Spine Center has patient success rates much higher than the national average. We treat everyone from high-profile athletes to your neighbor next door. Our primary focus is getting our patients back into the game of life!