Ice and Heat for Low Back Pain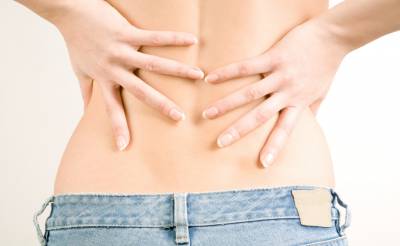 Heat to relieve low back pain
There is some evidence that heat will help decrease low back pain. There is little proof that cold will help. But some people do find that heat or cold help them. Follow these suggestions if you would like to try heat or cold for low back pain
Apply heat for 15 to 20 minutes at a time. Moist heat (hot packs, baths, showers) works better than dry heat.
Try an all-day heat wrap, available in pharmacies.
If you are using an electric heating pad, avoid falling asleep while the pad is on. If you think you might fall asleep, set an alarm clock to go off in 20 minutes. Use heating pads set on low or medium, never on high.
Ice to relieve low back pain
Ice and cold packs can relieve pain, swelling, and inflammation from injuries and other conditions such as arthritis. Use either a commercial cold pack or:
An ice towel. Wet a towel with cold water, and squeeze it until it is just damp. Fold the towel, place it in a plastic bag, and freeze it for 15 minutes. Remove the towel from the bag, and place it on the affected area.
An ice pack. Put about

1 lb (0.45 kg)

of ice in a plastic bag. Add water to barely cover the ice. Squeeze the air out of the bag and seal it. Wrap the bag in a wet towel and apply it to the affected area.
A homemade slush pack. Mix

3 cup (709.78 mL)

water and

1 cup (236.59 mL)

denatured alcohol in a freezer bag. Seal the bag, and place it in freezer until slush forms. Refreeze the bag when the slush melts.
A bag of frozen vegetables.
An ice cup. Fill a paper cup two-thirds full with water, and freeze it until it is solid ice. Before use, peel back enough paper to expose some of the ice. Rub the ice over the affected area for 3 to 5 minutes.
Ice the area at least 3 times a day. For the first 72 hours (3 days), ice for 10 minutes once an hour the first day, then every 2 to 3 hours. After that, a good pattern is to ice for 10 to 15 minutes 3 times a day: in the morning, in the late afternoon after work or school, and about a half hour before bedtime. Also ice after any prolonged activity or vigorous exercise.
ABOUT MICHIGAN SPORTS & SPINE CENTER:
We're innovative leaders utilizing cutting-edge technologies such as musculoskeletal ultrasounds, PRP, stem cell treatment, and other innovative procedures. Michigan Sports & Spine Center is committed to resolving your pain, not simply masking it. We treat the whole body, not just the injury, and perform preventative treatment so your injury doesn't come back. Our studies prove that Michigan Sports & Spine Center has patient success rates much higher than the national average. We treat everyone from high-profile athletes to your neighbor next door. Our primary focus is getting our patients back into the game of life!