Exercise Your Way to a Healthy Body and Brain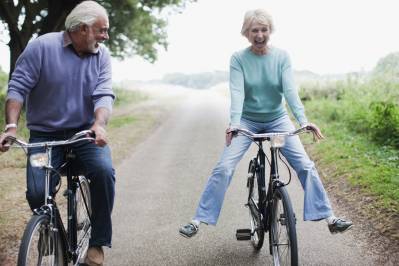 We know that exercise is good for your body and your heart. Now there's evidence that its good for your brain, too. A new study shows that people who do moderate exercise have brains that look, on average, 10 years younger than those that don't exercise.
The study was done at the University of Miami and published in the journal Neurology. It showed that for older people, getting regular exercise may be protective and help them keep their cognitive abilities longer.
The study of nearly 900 people showed 90 percent fell into the low-intensity group. The 10 percent who said they took part in moderate- to high-intensity exercise scored better on the tests 12 years later. These included running, racquetball, aerobics, or calisthenics. Those with moderate-heavy activity had higher baseline scores and slower decline in comparison to inactive patients. However, It also showed that if people already had signs of memory loss or mild cognitive impairment on their first exam, the exercise did not seem to help with memory decline.
The take away here is start now! Get out every day and perform moderate – heavy activity. For those that live in pain, always check with your physician first to ensure you are healthy enough to begin an exercise program. If pain is keeping you from exercise, see your physician. We at Michigan Sports & Spine Center are committed to helping you lead an active and pain free lifestyle. Come see us to help get you back to the life you deserve.
ABOUT MICHIGAN SPORTS & SPINE CENTER:
We're innovative leaders utilizing cutting-edge technologies such as musculoskeletal ultrasounds, PRP, stem cell treatment, and other innovative procedures. Michigan Sports & Spine Center is committed to resolving your pain, not simply masking it. We treat the whole body, not just the injury, and perform preventative treatment so your injury doesn't come back. Our studies prove that Michigan Sports & Spine Center has patient success rates much higher than the national average. We treat everyone from high-profile athletes to your neighbor next door. Our primary focus is getting our patients back into the game of life!