Keep Your Running Injury Free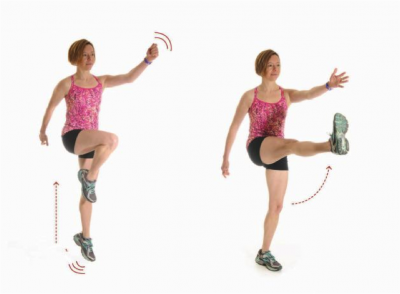 According to Runner's World, over 50 percent of all runners get injured every year. Most experts agree that to lower injury risk, you need a strong body, good form, and the right shoe. Follow these simple steps to keep you from being one of the statistics.
Warm-Up: In preparation for physical activity it is important to start with 5-10 minutes of low-moderate exercise which increases circulation and warms the muscle tissue. To further increase tissue flexibility and prevent strain or tear participation in dynamic stretching drills should immediately follow. Static stretching is also a useful tool when trying to prevent injury, but holding stretches for an extended period before a workout can hinder the muscles ability for tear and rebuild. With that in mind static stretching should be saved for the cool-down phase of your workout. In addition other forms of stretching such as ballistic stretching should be avoided all together because of the risk they pose to the body.
Terrain and Environment: Unless you are in the gym or at home on a treadmill chances are you will be running outside. When running outside one must prepare for the elements as well as choose the surface on which to run. As a beginner it is best to find a smooth flat surface such as a rubber track. Avoiding hills and pavement will reduce the amount of impact on joints such as the knee. Other surfaces such as dirt and grass trails can also be helpful in reducing impact. When running trails however, it is always smart to know your path, take the time and walk your course first. Finally, one must dress for the weather when running outside. Risks created by weather conditions such as hypothermia and overexposure can be prevented by being aware of your thermoregulation and wearing layers that can be easily taken off or replaced for good balance.
Equipment: As far as equipment goes, for runners there is nothing more important than having the right footwear. The first step in finding what works best for you is knowing the shape of your feet. Those that have flat feet are far more likely to develop shin splints and if you have high arches there is potential for plantar fasciitis. Using corrective insoles can help curtail the development of such problems. It is also important to make sure that your shoes are in good condition. If the sole is worn down and no longer flat in the back it is time to get a new pair.
Fuel: Keeping up with a well balanced diet will help your body stay healthy and reduce your risk of injury. It is recommended that you consume five small meals a day with healthy snacking in between or before a workout. Having a good balance of carbohydrates in your system to supply energy during a workout and protein for your recovery after is key.
ABOUT MICHIGAN SPORTS & SPINE CENTER:
We're innovative leaders utilizing cutting-edge technologies such as musculoskeletal ultrasounds, PRP, stem cell treatment, and other innovative procedures. Michigan Sports & Spine Center is committed to resolving your pain, not simply masking it. We treat the whole body, not just the injury, and perform preventative treatment so your injury doesn't come back. Our studies prove that Michigan Sports & Spine Center has patient success rates much higher than the national average. We treat everyone from high-profile athletes to your neighbor next door. Our primary focus is getting our patients back into the game of life!