All About Meditation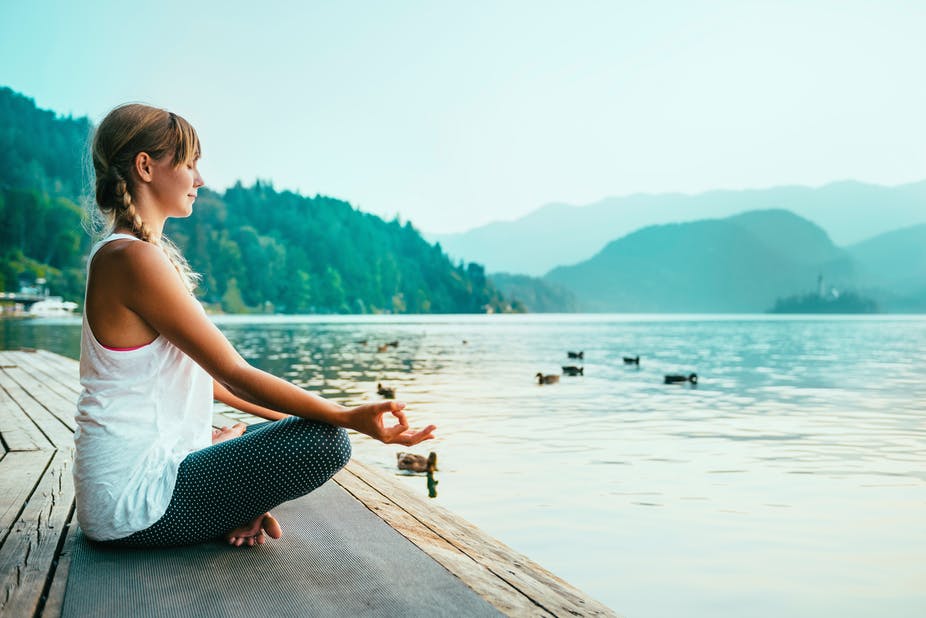 Did you know . . .
the number of adults who meditated in the U.S. was 18 million in 2012,
this represents about 8% of the entire U.S. adult population, and the number has only been increasing since then.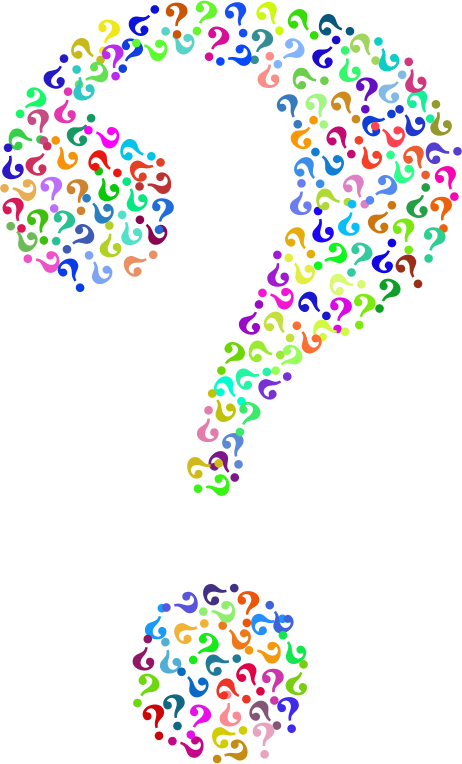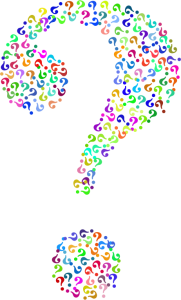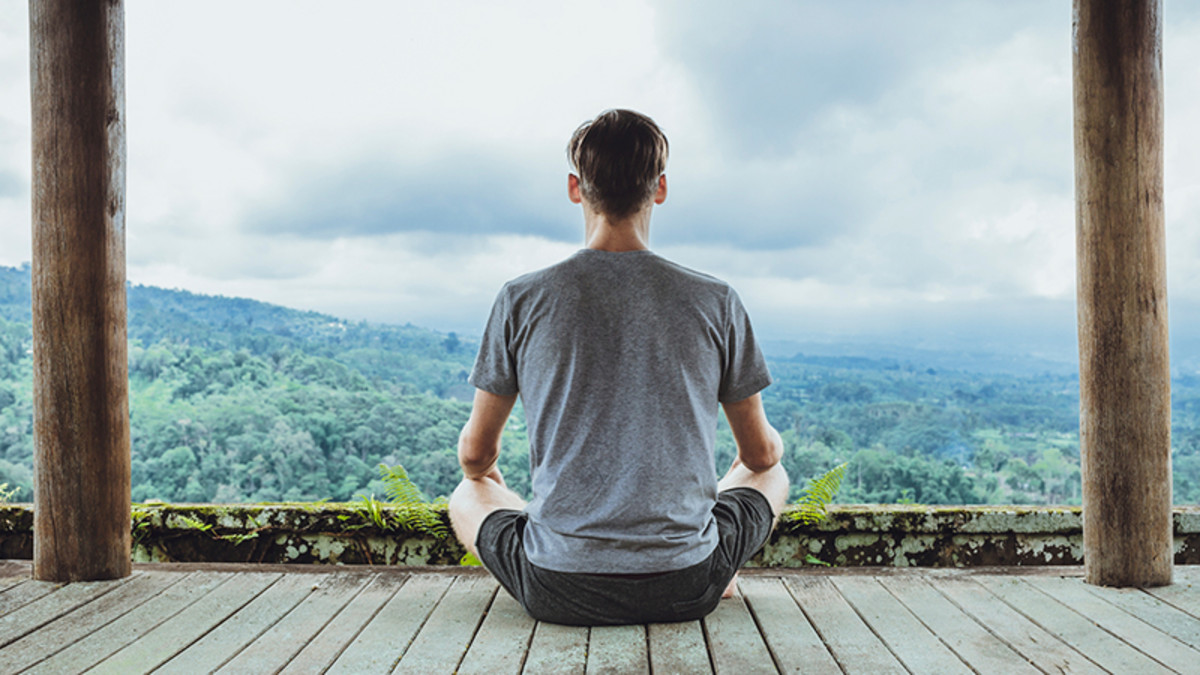 If stress has you tense, anxious or worried, consider trying meditation. Spending just a few minutes meditating each day can restore your calm, serene, inner peace.
Meditation is a type of mind-body medicine that has been practiced for thousands of years. Practicing meditation, you develop intentional focus – minimizing random thoughts about the past or future. Meditation is a practice that helps us focus our attention on the 'here' and 'now,' with goodwill and without judgment. Mind and body practices focus on interactions among the brain, mind, body and behavior.
There are many types of meditation, however, most have four elements in common:
a quiet location with as little distractions as possible
a comfortable posture, this could be sitting, lying down, walking or in another position
a focus of attention, a specific word or set of words, an object or the sensations of the breath
an open attitude, letting distractions come and go naturally without judging them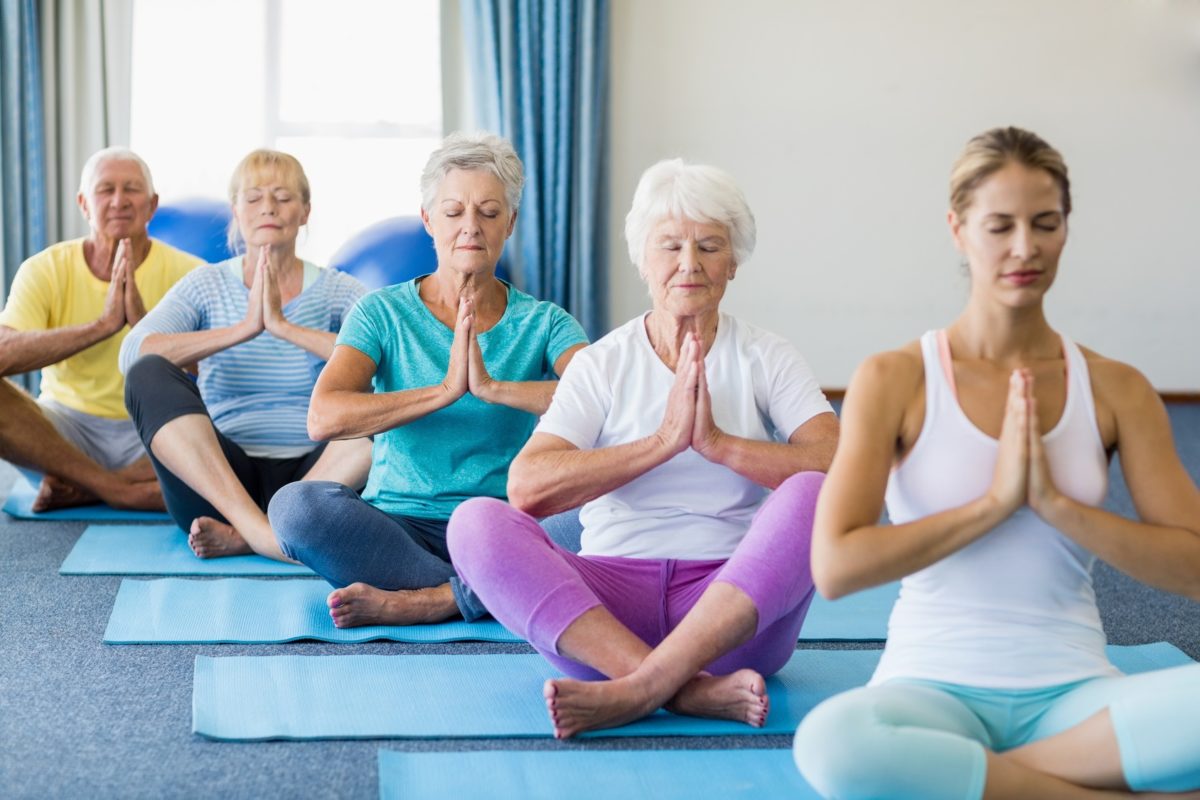 Anyone can practice meditation. It's simple, inexpensive and it doesn't require any specific equipment.
Whether you're walking the dog, driving in the car, waiting at the doctor's office or even in the middle of a business meeting – you can practice meditation.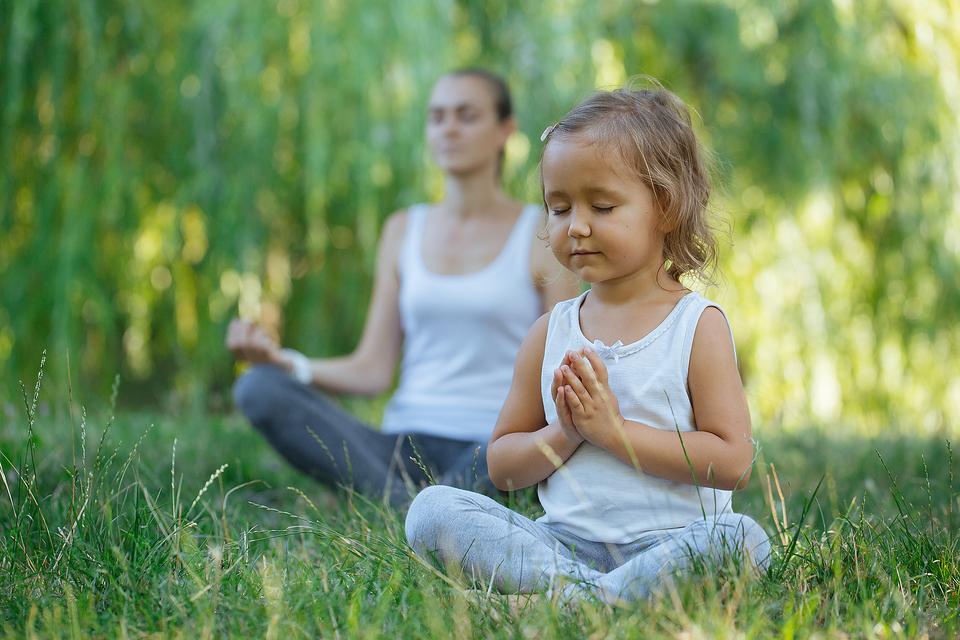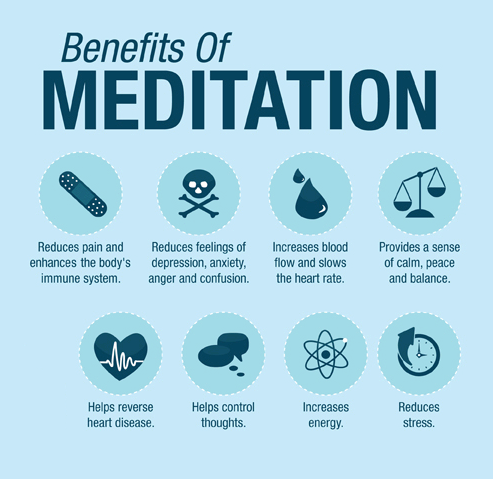 BENEFITS
An abundance of scientific studies suggests that mindfulness meditation offers some powerful holistic health benefits, making it an increasingly viable complement to conventional healthcare.
Some of the benefits of meditation include:
ease pain
stay focused
manage anxiety and depression
mindfulness
reduce stress
improves psychological balance
fight Alzheimer's
avoid colds and the flu
improves concentration
encourages a healthy lifestyle
increases happiness
slows aging
Emotional benefits:
building skills to manage stress
increasing self-awareness
gaining a new perspective on stressful situations
focusing on the present
reducing negative emotions
increasing imagination and creativity
increasing tolerance and patience
Meditation is also helpful if you have a medical condition or illness, especially one that increases with stress. Research suggests that meditation may help people manage symptoms of conditions such as:
chronic pain
heart disease
high blood pressure
sleep issues
tension headaches
cancer
asthma
anxiety
depression
irritable bowel syndrome
Be sure to talk to your physician, Michigan Sports & Spine Center or another healthcare provider about whether meditation is right for you. Meditation isn't a replacement for traditional medical treatment, however, it may be a useful addition to your other treatments.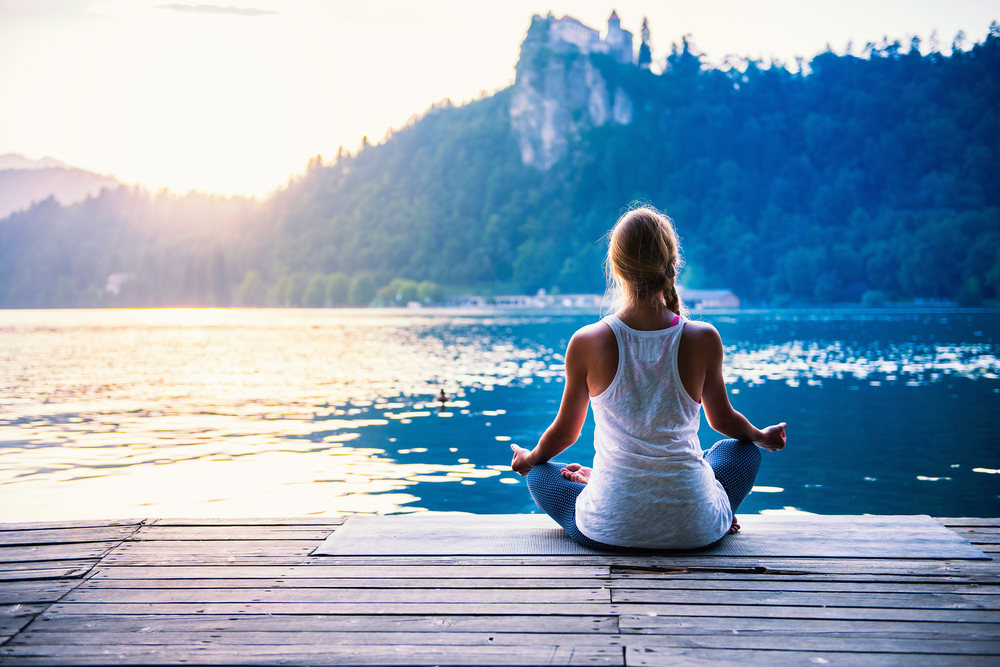 FUN FACTS ABOUT MEDITATION
Meditation has been practiced for thousands of years. Originally meditation was meant to help deepen understanding of sacred and mystical forces of life. Today, meditation is commonly used for stress reduction and relaxation.
Meditation can give you a sense of peace, calamity and balance that can benefit both your emotional well-being and your overall health.
Don't let the thought of meditating the 'right' way add to your stress.
Don't judge your meditation skills, which may only increase your stress. Meditation takes practice.
The most popular forms of meditation include mindfulness meditation, spiritual meditation and mantra meditation.
Meditation is the mind without agitation.
Some research suggests that meditation may physically change the brain and body and could potentially help to improve many health problems and promote healthy behaviors.
During meditation, you focus your attention and eliminate the stream of jumbled thoughts that may be crowding your mind and causing stress. Practicing meditation may result in enhanced emotional and physical well-being.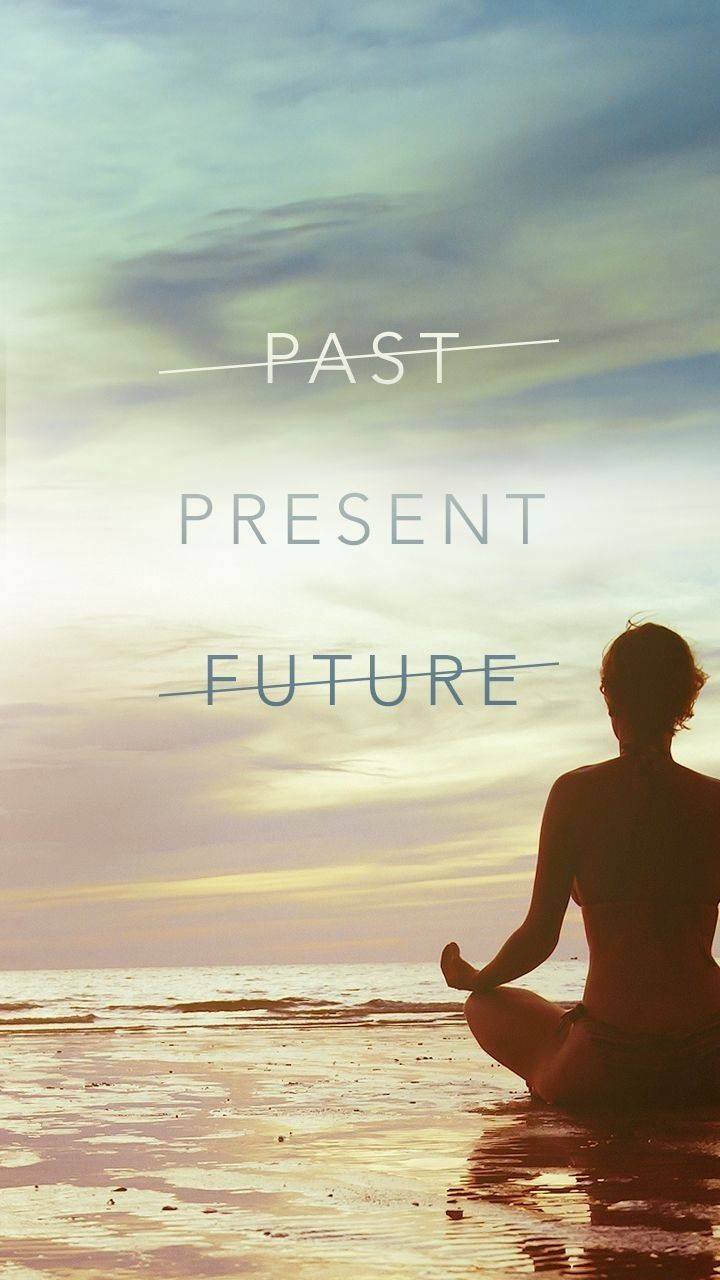 To learn more about the health benefits of meditation and how to meditate, tune into Inside Sports Medicine on 97.1 The Ticket this Sunday, August 5 at 8 am EST. We'll have meditation and yoga instructor, Nancy McCaochan as our guest. Nancy has formal training in Philosophy, Women's Studies, Writing Instruction, Meditation, Shamanic Journey Techniques, Hatha Yoga with an emphasis on therapeutics and Kundalini Yoga as taught by Yogi Bhajan.
ABOUT MICHIGAN SPORTS & SPINE CENTER:
We're innovative leaders utilizing cutting-edge technologies such as musculoskeletal ultrasounds, PRP, stem cell treatment, and other innovative procedures. Michigan Sports & Spine Center is committed to resolving your pain, not simply masking it. We treat the whole body, not just the injury, and perform preventative treatment so your injury doesn't come back. Our studies prove that Michigan Sports & Spine Center has patient success rates much higher than the national average. We treat everyone from high-profile athletes to your neighbor next door. Our primary focus is getting our patients back into the game of life!
Sources: National Center for Complementary and Interactive Health, Mayo Clinic, Yoga Journal, Huff Post