Rehydration & Recovery is Vital Post-Workout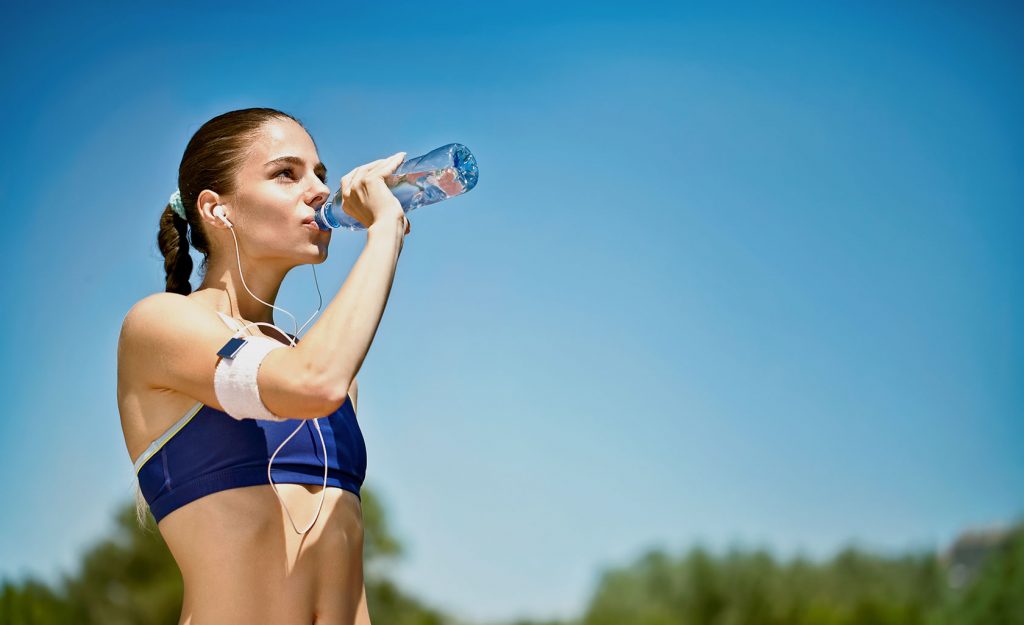 Did you know . . .
without proper recovery, your workouts go largely wasted,
skipping the recovery after exercise also means you miss out on building health-promoting lean muscle mass, your exercise performance will lag and you even risk chronically too-high levels of stress hormones, which can cause injury, lead to muscle wasting and weight gain.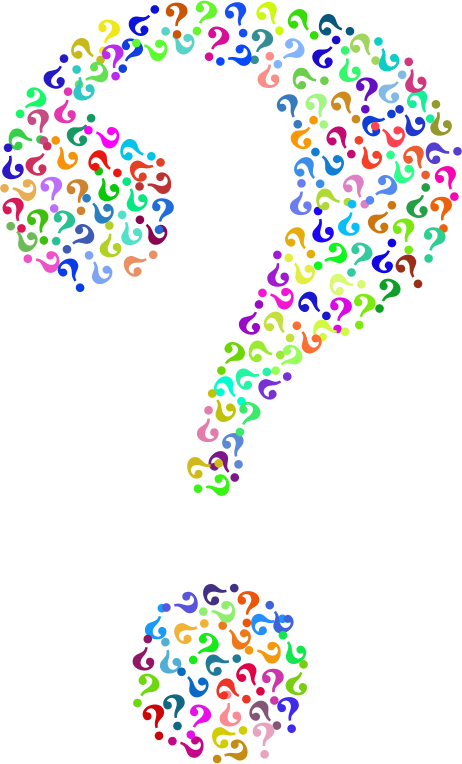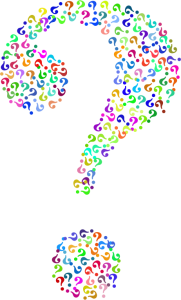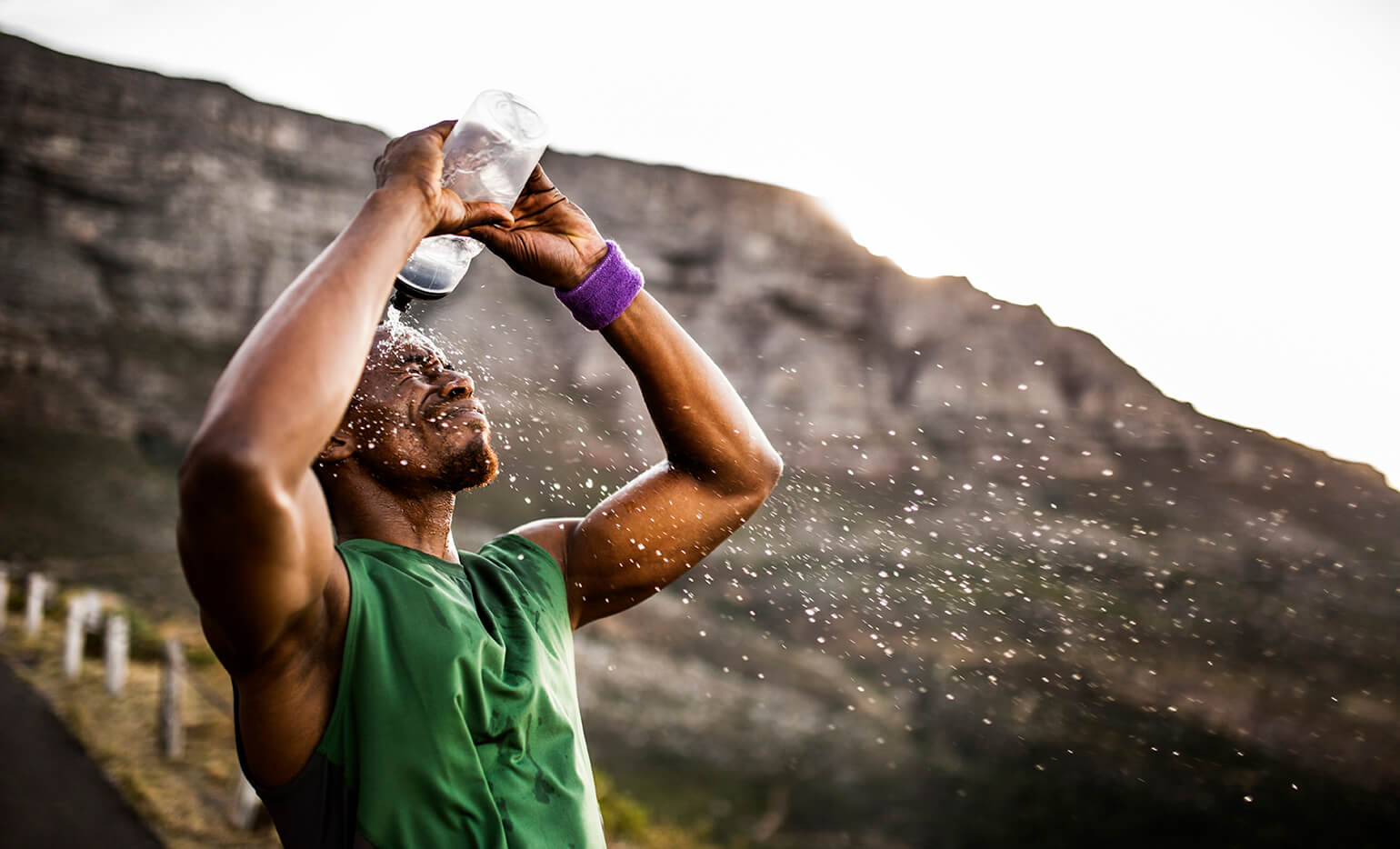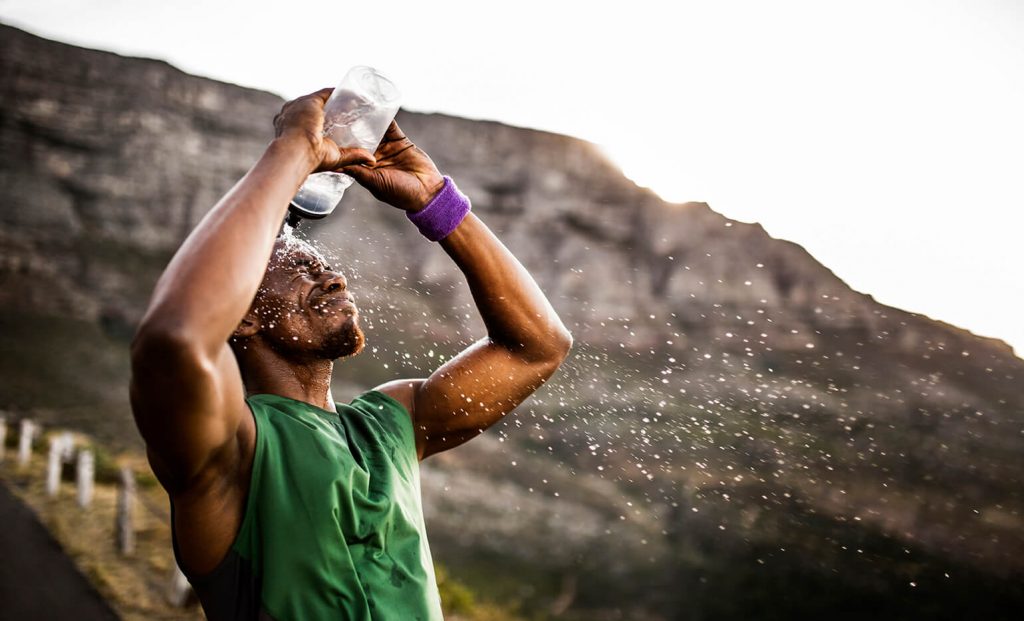 Recovery after intense exercise refers to moving fluids and waste products out of muscles in an efficient manner. When muscles are used they create lactic acid as a byproduct and this is partly what causes the sensation of stiffness and soreness in muscles following exercise.
Flush out your muscles and amp up the recovery process:
cool:
cooling your muscles after a grueling workout can be as simple as dropping your body temp,
pro athletes often take an ice bath or jump into a cryotherapy chamber,
it doesn't have to be ice cold water, it just needs to be cooler than your body, a cold shower will work perfectly
compress:
reduce swelling and avoid delayed onset muscle soreness,
Olympians swear by NormaTec, the company sells compression sleeves starting at $1,500 a set,
taping sore muscles and joints with kinesiology tape, used to help eliminate fluid from an area and is affordable at $13 a roll and you can put it on yourself,
or try compression clothing, which helps during and post-workout for soothing muscle inflammation
hydrate:
hydration is a vital part of your recovery plan and process,
the optimal window of time to re-hydrate is the first 20 minutes after your workout,
grab the water first,
make your second drink one that contains electrolytes, Gatorade is the most common
refuel:
the ideal window to refuel is 60 minutes. Do not wait for an hour or two to refuel because your body is going to continue to metabolize and struggle following a workout,
it's most important to refuel with a protein snack that is about 200 calories, with some carbohydrates included. Excellent examples include the following:

Greek yogurt (12 g protein)
chocolate milk (8 g protein)
edamame (11 g protein)
dried meat snacks (10 g protein)
nuts or granola type bars (7 g protein)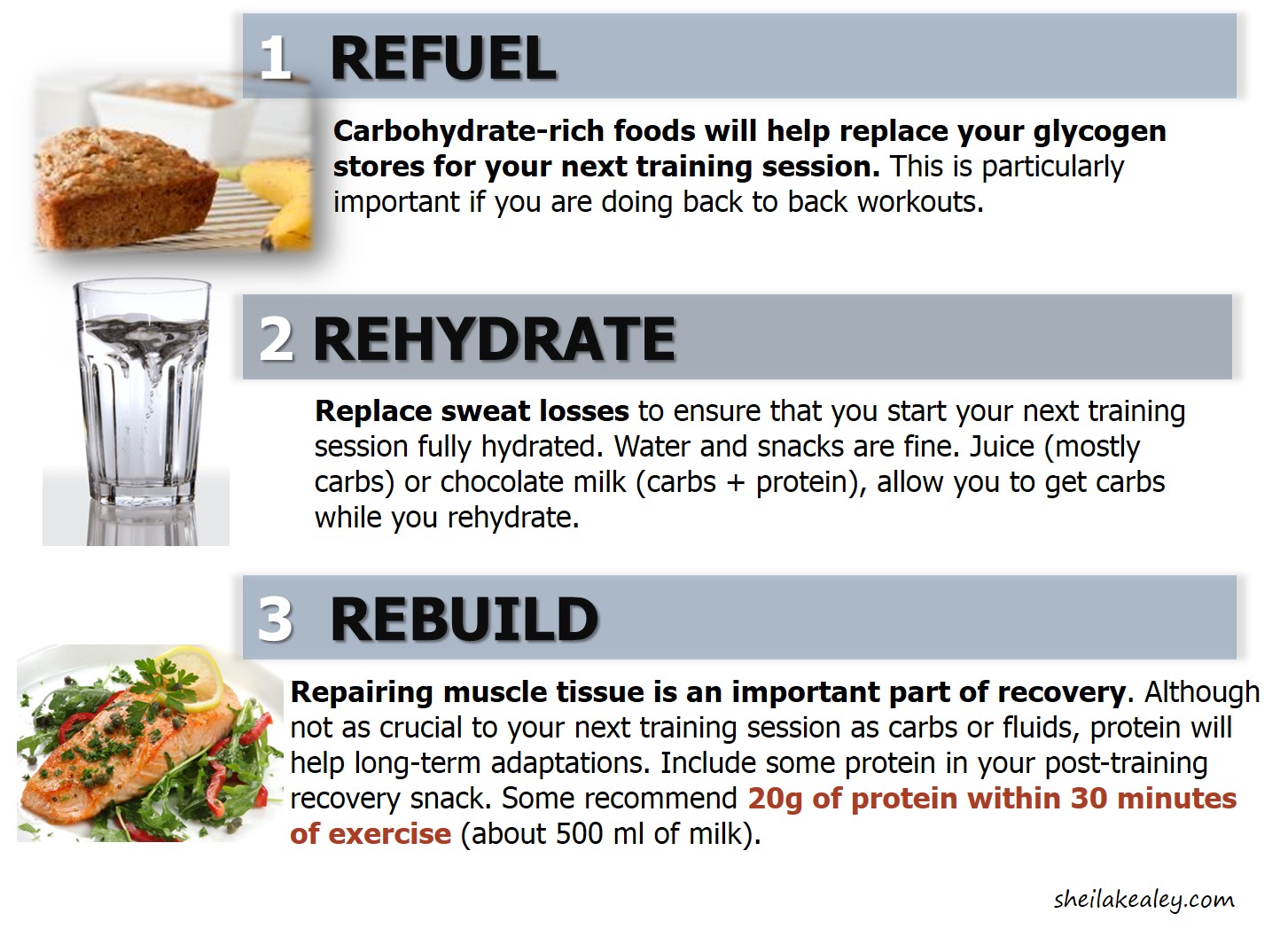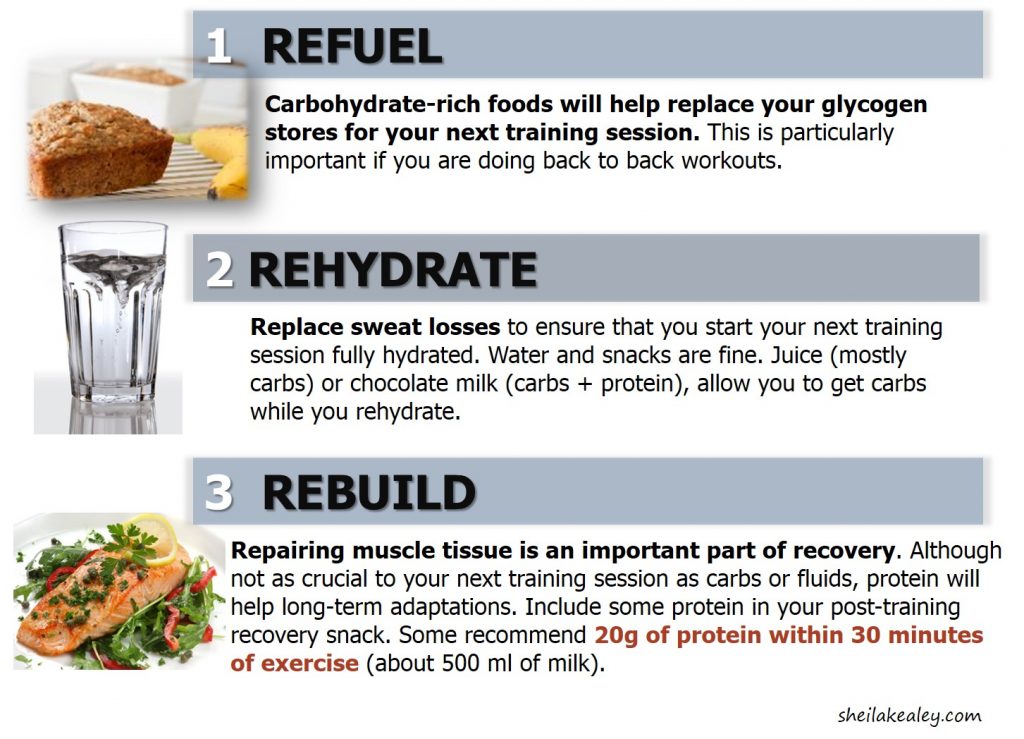 When you're working out, your muscles use up their glycogen stores for fuel. The result is your muscles being partially depleted of glycogen. Some of the proteins in your muscles also get broken down and damaged. Post workout, your body tries to rebuild its glycogen stores and repair and regrow those muscle proteins. Consuming the right nutrients post workout is important. It is particularly important to eat carbs and protein and choose easily digested food which will promote faster nutrient absorption. Following are good options:
carbs:
fruits (pineapple, berries, kiwi, banana)
dark, leafy green veggies
sweet potatoes
quinoa
rice
rice cakes
chocolate milk
potatoes
oatmeal
pasta
protein:
animal or plant-based protein powder
eggs
cottage cheese
salmon
chicken
Greek yogurt
protein bar
tuna
fats:
avocado
nut butters
nuts
trail mix
sample post-workout meals:
grilled chicken and roasted veggies
egg omelet with avocado toast
salmon with sweet potatoes
oatmeal, whey protein, banana and almonds
cottage cheese and fruits
Greek yogurt, berries and granola
quinoa bowl with berries and pecans
tuna and crackers
pita and hummus
tuna salad sandwich on whole grain bread
rice crackers and peanut butter
whole grain toast and almond butter
cereal and skim milk
multi-grain bread and raw peanuts
protein shake and banana
Benefits of post-workout nutrition:
enhanced recovery
less muscle soreness
amplified ability to build muscle
enriched immune function
improved bone mass
superior ability to utilize body fat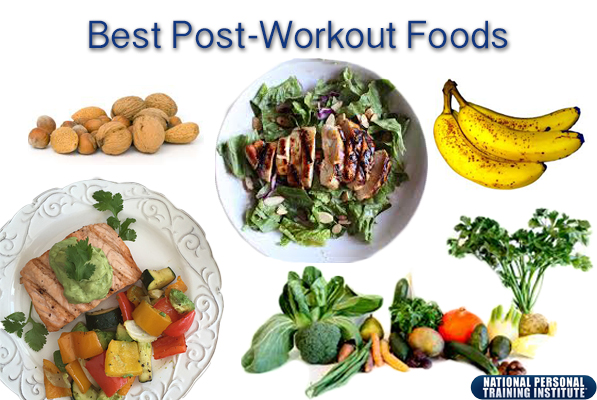 To hear more about the importance of rehydrating and recovery following exercise, tune into Inside Sports Medicine on 97.1 The Ticket this Sunday, February 25 at 8 am EST.
ABOUT MICHIGAN SPORTS & SPINE CENTER:
We're innovative leaders utilizing cutting-edge technologies such as musculoskeletal ultrasounds, PRP, stem cell treatment, and other innovative procedures. Michigan Sports & Spine Center is committed to resolving your pain, not simply masking it. We treat the whole body, not just the injury, and perform preventative treatment so your injury doesn't come back. Our studies prove that Michigan Sports & Spine Center has patient success rates much higher than the national average. We treat everyone from high-profile athletes to your neighbor next door. Our primary focus is getting our patients back into the game of life!
Sources: U.S. News, Precision Nutrition, Shape, Healthline