Regenerative Medicine Seminar With Dr Jeff Pierce on Tuesday February 21st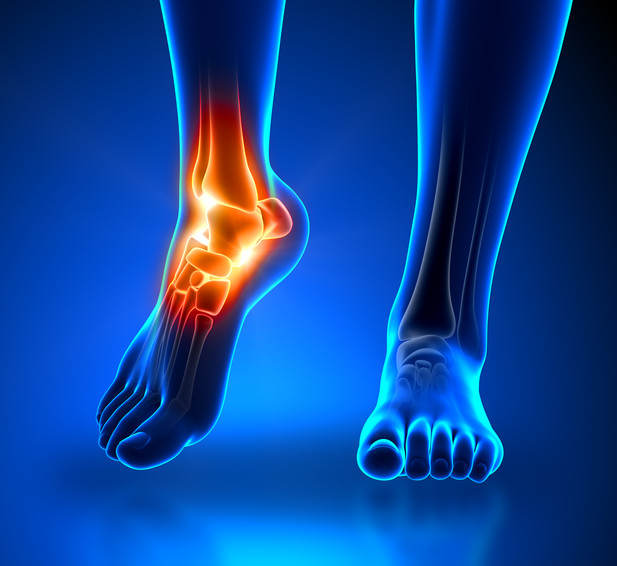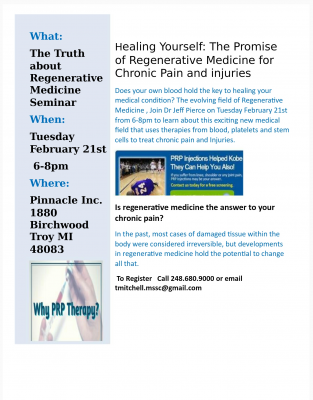 Are you interested in learning more about Platelet-rich plasma(PRP Therapy) and Stem Cell Therapy and the truth about Regenerative Medicine? Are you looking for a Non-Surgical Approach for for an injury that just won't go away?Or are you tired of everyday aches and pain? Join us on Tuesday February 21st. This is a Seminar you Do not want to miss!!
Dr Pierce will hold a Seminar on Tuesday February 21st from 6-8pm. Dr. Pierce will be talking about Platelet-rich plasma (PRP Therapy) and Stem Cell Therapy and how it will benefit you and talk about the benefits of Regenerative Medicine.
To Register call 248.680.9000 or email tmitchell.mssc@gmail.com
Seminar Address -1880 Birchwood , Troy Mi 48083
Read below for more exciting information on Regenerative Medicine!!
A single PRP injection helps reduce pain and heal injured tissue in patients with chronically sore shoulders caused by rotator cuff tears. PRP therapy is an emerging therapeutic procedure for the treatment of both… acute and chronic soft tissue injuries. The procedure involves withdrawing blood from the patient and then spinning it to produce a high concentration of platelet cells. The plasma is then injected back into the patient at the injury site, speeding up the natural healing process.
Los Angeles Lakers star Kobe Bryant was one of the first professional athletes to receive PRP therapy, traveling to Düsseldorf, Germany for a more refined version known as the Regenerate treatment. Peyton Manning, Alex Rodriquez, Vijay Singh and other professional athletes soon followed.
You do not have to fly to Germany to get this done , Michigan Sports And Spine Center have performed many PRP procedures in our office with results usually equal to or surpassing more typical orthopedic procedures which involve surgery and sometimes substantial downtime and lost time from work.
ABOUT MICHIGAN SPORTS & SPINE CENTER:
We're innovative leaders utilizing cutting-edge technologies such as musculoskeletal ultrasounds, PRP, stem cell treatment, and other innovative procedures. Michigan Sports & Spine Center is committed to resolving your pain, not simply masking it. We treat the whole body, not just the injury, and perform preventative treatment so your injury doesn't come back. Our studies prove that Michigan Sports & Spine Center has patient success rates much higher than the national average. We treat everyone from high-profile athletes to your neighbor next door. Our primary focus is getting our patients back into the game of life!