Pain in your feet?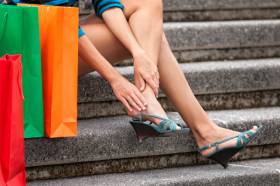 Foot pain may be the cause of other aches and pains!!
Whether you love hiking, mountain biking, running or some other high impact outdoor sport, sometimes your enthusiasm can outweigh your body's readiness – especially after a long winter. Still, you shouldn't let yourself be sidetracked by pain. If you are getting outdoors and noticing some aches and pains that weren't there last fall, you should first see your Doctor. Here are some clues to figure out what may be going on.
Feet First
When painful symptoms strike, look first to your feet. Common injuries in high impact sports include:
Plantar fasciitis
Runner's knee
Shin splints
Tendonitis
Stress fractures of the foot
If you have an imbalance in your feet, it will cause imbalances in the rest of your body that can lead to injury. Your feet are your body's foundation, and they also take most of the shock and stress that you put your body through. If your feet are balanced then the shock and stress will be evenly distributed, but if your feet aren't balanced then the shock and stress won't be evenly distributed and cause misalignments or overcorrections that can cause pain in other places – not just your feet
ABOUT MICHIGAN SPORTS & SPINE CENTER:
We're innovative leaders utilizing cutting-edge technologies such as musculoskeletal ultrasounds, PRP, stem cell treatment, and other innovative procedures. Michigan Sports & Spine Center is committed to resolving your pain, not simply masking it. We treat the whole body, not just the injury, and perform preventative treatment so your injury doesn't come back. Our studies prove that Michigan Sports & Spine Center has patient success rates much higher than the national average. We treat everyone from high-profile athletes to your neighbor next door. Our primary focus is getting our patients back into the game of life!