Living With Pain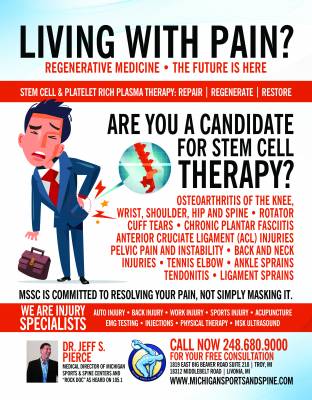 If you are looking for a Non-Surgical approach PRP or Stem Cell therapy may be for you. Call us today 248.680.9000
PRP injections, a physician uses the patient's own blood to separate platelets in a centrifuge. The platelets are then re-injected into the injured area, releasing growth factors that promote natural tissue healing.
Stem cell therapy is a completely different process of extracting rejuvenating cells. For the procedure, stem cells from either bone marrow or fat tissue used in conjunction with platelets. Stem cells from bone marrow, called autologous mesenchymal, produce cartilage and typically used in treating arthritic conditions and sports injuries. Stem cells from fat tissue are utilized with platelets to heal an osteoarthritic joint, for example, to regrow cartilage.
Remarkable results have come from PRP injections as well as stem cell therapy. Common injuries or conditions that are often improved with these treatments include:
•Tendonitis
•Rotator cuff tears
•Osteoarthritis
•Spine conditions
•Arthritic joints
•Overuse injuries
•Inflammation from herniated disc
ABOUT MICHIGAN SPORTS & SPINE CENTER:
We're innovative leaders utilizing cutting-edge technologies such as musculoskeletal ultrasounds, PRP, stem cell treatment, and other innovative procedures. Michigan Sports & Spine Center is committed to resolving your pain, not simply masking it. We treat the whole body, not just the injury, and perform preventative treatment so your injury doesn't come back. Our studies prove that Michigan Sports & Spine Center has patient success rates much higher than the national average. We treat everyone from high-profile athletes to your neighbor next door. Our primary focus is getting our patients back into the game of life!