Symptoms of Whiplash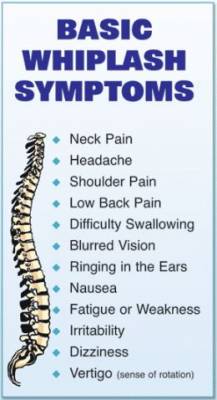 Have you or someone you know been involved in a motor vehicle collision? One of the most common injuries from a car crash is the damaging effect of whiplash. Whiplash occurs when a sudden, jarring movement of the head is sustained backward, forward or even to the side. Whiplash destabilizes the spine and causes severe pain.
What are the symptoms of whiplash?
Headache caused by neck problems is called cervicogenic or neck-related headache. It may be caused by injury to an upper cervical disc, facet joint or higher joints called the atlanto-occipital or atlanto-axial joints. Cervicogenic headache can also make migraines worse.
Arm pain and heaviness may be caused by nerve compression from a herniated disc, which is easy for your health care professional to diagnose. More commonly, arm pain is "referred" from other parts of the neck. "Referred pain" is pain that is felt at a place away from the injured areas but not resulting from pressure on a nerve. Pain between the shoulder blades is usually a type of referred pain.
Low back pain is occasionally seen and is quite common after whiplash and may be caused by injury to the discs, facet joints of the low back or sacroiliac joints.
Difficulties with concentration or memory can be attributed to the pain itself, medications you are taking for the pain, depression or mild brain injury. You might also experience irritability and depression.
Sleep disturbance can be a result of pain or depression. Other symptoms might include blurry vision, ringing in the ears, tingling in the face and fatigue.
Care should be sought immediately after an automobile accident since allowing the effects of whiplash to go untreated can induce long-term pain. The seriousness of the physical effects of an accident is not always known or felt immediately following. It can take days, weeks or even months for major symptoms to show up, which is why care is essential to maintaining the health of a spine that has been through a trauma.
Early care and treatment means full healing and recovery is quickly realized. Even a car crash that is seemingly minor with limited damage to the car itself can cause serious injury to the driver and passengers. Be aware and seek treatment if you're having any symptoms.
If you have whiplash …
A spine care specialist can help relieve the pain of whiplash and regain range of motion. Follow your health care professional's instructions carefully.
Remain active and do the exercises that you are taught to improve your posture and reduce the strain on your neck.
Remember that, with proper care and patience, you are likely to recover from whiplash.
ABOUT MICHIGAN SPORTS & SPINE CENTER:
We're innovative leaders utilizing cutting-edge technologies such as musculoskeletal ultrasounds, PRP, stem cell treatment, and other innovative procedures. Michigan Sports & Spine Center is committed to resolving your pain, not simply masking it. We treat the whole body, not just the injury, and perform preventative treatment so your injury doesn't come back. Our studies prove that Michigan Sports & Spine Center has patient success rates much higher than the national average. We treat everyone from high-profile athletes to your neighbor next door. Our primary focus is getting our patients back into the game of life!