Understanding an EMG Test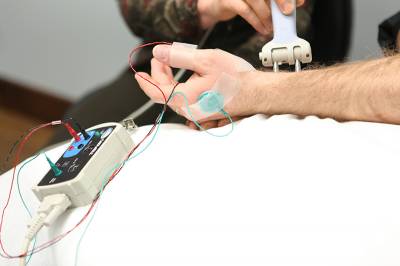 What is an EMG test?
Electromyography (EMG) is a form of electrodiagnostic testing that is used to study nerve and muscle function. Commonly performed by a physiatrist or neurologist trained in this procedure, EMG testing can provide your doctor with specific information about the extent of nerve and/or muscle injury and can also determine the exact location of injury and give some indication whether the damage is reversible.
What should you expect from EMG testing?
The EMG usually has two parts:
1.a nerve conduction study, which uses electrodes taped to your skin to evaluate your motor neurons
2.a needle electrode exam, which uses a small needle inserted into your muscles to evaluate your muscles' electrical activity
During the EMG, you will lie down on an exam table or recline comfortably in a chair. Your doctor may ask you to move into different positions during the exam. Some patients report pain and discomfort during an EMG. If at any point the test becomes too painful, you can ask your doctor to take a break.
The entire procedure should take between 30 and 60 minutes.
Nerve Conduction Study: During this part of the procedure, your doctor will apply several small electrodes to the surface of your skin. This will evaluate how well your motor neurons communicate with your muscles. The electrodes will deliver electrical stimuli to your nerves, and the information is transferred to a small computer as waveforms. You may feel a tingling or twitching sensation during this portion of the test. Once the test is complete, the electrodes are removed.
Needle Electrode Exam: Next, your doctor will sterilize specific parts of your body and insert a small, thin needle. You may feel slight discomfort or pain while the needle is being inserted. The needle electrodes evaluate electrical activity in your muscles, both when at rest and when contracted. The computer translates this electrical activity visually as waveforms and audibly as popping sounds. Once the test is complete, the needle electrode is removed.
What you should know before an EMG test?
If you have a pacemaker or implantable defibrillator, or if you suffer from a bleeding disorder or lymphedema, you may not be able to have an EMG. It's also important to talk to your doctor before the test if you are taking blood thinners or any other medications, or if you have other medical conditions.
An EMG test is extremely safe. EMG needles are used for only one patient, are not recycled, and are immediately disposed of following use. Side effects may include some muscle soreness, which rarely lasts more than an hour or two after the exam. Patients with joint replacements or other artificial components in their body do not need to take antibiotics specifically for the EMG. Patients on medication should take their usual medication on the day of the test. No special preparation is necessary.
Do not use any body lotions or oils on your skin on the day of the procedure. This interferes with the testing.
Why has an EMG test been ordered?
Some symptoms that may call for an EMG include: tingling, muscle weakness, numbness, muscle pain or cramping, paralysis, involuntary muscle twitching.
Conditions that EMG testing helps diagnose include carpal tunnel syndrome, a pinched nerve, radiculopathy, sciatica, neuropathies, muscle diseases, muscular dystrophy, Lou Gehrig's disease, and myasthenia gravis.
Your physician will have results withing 3-5 days.
ABOUT MICHIGAN SPORTS & SPINE CENTER:
We're innovative leaders utilizing cutting-edge technologies such as musculoskeletal ultrasounds, PRP, stem cell treatment, and other innovative procedures. Michigan Sports & Spine Center is committed to resolving your pain, not simply masking it. We treat the whole body, not just the injury, and perform preventative treatment so your injury doesn't come back. Our studies prove that Michigan Sports & Spine Center has patient success rates much higher than the national average. We treat everyone from high-profile athletes to your neighbor next door. Our primary focus is getting our patients back into the game of life!