Tiger Woods Bone Pop – Golf Injuries Got You Down, Too?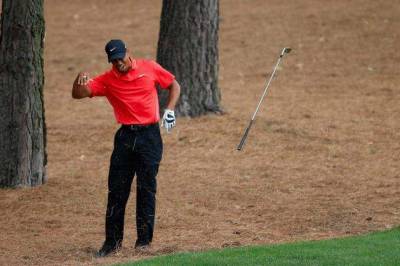 Its golf season again here in Michigan and we couldn't be more excited to hit the links. That also means it's the season when we start seeing patients with 'golfers' injuries.
Hand, wrist and elbow injuries are common for golfers of all skill levels. The golf swing is a complex, coordinated series of motions. Golf injuries can result from poor technique, overuse or a single direct blow, like hitting a tree root. That is what happened to Tiger Woods at the Masters.
Tiger Woods' ball sat off the fairway in the pine straw on No. 9, and when he thumped his blade down on the ball, he clunked a root that stung his right wrist. "A bone kind of popped out," Woods said in a post-round interview on CBS. "The joint went out of place. I put it back in." Oh, boy.
Golf is usually considered a low level activity, but golfers often suffer serious injuries. Over 50% of touring professionals have had to stop playing because of injuries.
To avoid injuring yourself while playing golf, there are several things you can do. We can't keep you from hitting a tree root with your club, but there are many preventative measures you can incorporate into your golf game.
First, always warm up carefully before playing by hitting a few balls with your short irons. A touring professional, whose muscles are conditioned to play golf, will hit a few balls first to loosen up. The average weekend golfer typically starts out with the hardest swing of the day – the drive off the first tee. Professionals usually do not have as many injuries as amateur golfers because they play with better form. Several studies have shown that most golf injuries are a result of poor techniques. A few lessons from your local golf instructor may help you tune up your swing to avoid an injury. However, beware of trying to swing exactly like the modern professionals do. They have conditioned their bodies to tolerate a swing, which may not be ideal for the average player. If you have some injuries that hamper your golf game, there are ways to treat them so you can continue playing the game you love.
The problem is finding the right doctor, one who understands your immediate and long-term goals. With so many options, determining the correct treatment can be a daunting task. Ask questions. Lots of questions. Don't let an injury keep you from playing golf again. With the right diagnosis and plan of action, you can be back on the course, perhaps stronger than before.
ABOUT MICHIGAN SPORTS & SPINE CENTER:
We're innovative leaders utilizing cutting-edge technologies such as musculoskeletal ultrasounds, PRP, stem cell treatment, and other innovative procedures. Michigan Sports & Spine Center is committed to resolving your pain, not simply masking it. We treat the whole body, not just the injury, and perform preventative treatment so your injury doesn't come back. Our studies prove that Michigan Sports & Spine Center has patient success rates much higher than the national average. We treat everyone from high-profile athletes to your neighbor next door. Our primary focus is getting our patients back into the game of life!