What is Whiplash?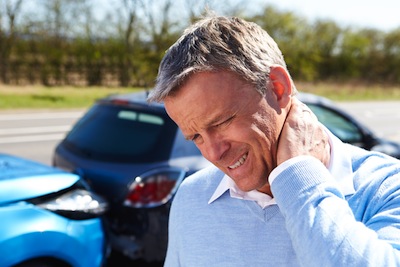 Whiplash occurs when a person's neck is whipped backward and then forward very suddenly. This injury is most common following an auto accident or a sports injury, but can also occur from sleeping or holding your neck in an awkward position.
Whiplash results when the soft tissues—the muscles and ligaments—of your neck are extended beyond their typical range of motion. Your symptoms might not be apparent for a while, so it's important to pay attention to any physical changes for a few days following any accident.
The neck is prone to this type of injury because of the demands placed on the cervical spine. The cervical vertebrae are connected with ligaments and supported by muscles. Together, these structures must provide our heads with support and allow a wide range of motions. These demands make our necks prone to neck strain injury. When the muscles or ligaments are injured, and the demands of the cervical spine are compromised, the resulting pain quickly interferes with our daily lives. That's why whiplash injuries are so problematic and need to be treated promptly.
How is whiplash treated? It starts with allowing the muscles and ligaments around the cervical spine to rest and recover and is an important aspect of treatment. If resting does not alleviate symptoms of whiplash, you should have further evaluation by your doctor.
Doctors will often prescribe over-the-counter pain medications. More severe injuries may require prescription painkillers, and muscle relaxants to reduce muscle spasms. Physical therapy is also an effective method for recovery.
If it is clear that your symptoms are due to a simple neck strain or ligament sprain, then these steps should help your condition. It is important, however, to know the cause of the symptoms, because more than just whiplash can cause neck pain. All treatment of neck strain injuries should be guided by a physician.
ABOUT MICHIGAN SPORTS & SPINE CENTER:
We're innovative leaders utilizing cutting-edge technologies such as musculoskeletal ultrasounds, PRP, stem cell treatment, and other innovative procedures. Michigan Sports & Spine Center is committed to resolving your pain, not simply masking it. We treat the whole body, not just the injury, and perform preventative treatment so your injury doesn't come back. Our studies prove that Michigan Sports & Spine Center has patient success rates much higher than the national average. We treat everyone from high-profile athletes to your neighbor next door. Our primary focus is getting our patients back into the game of life!