Weekend Warriors Syndrome – Don't Get Sidelined with Injuries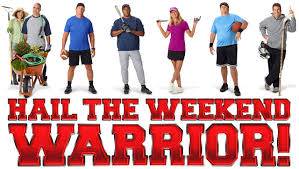 If that Saturday morning game of golf tennis, pickup basketball, or run through the park left you so sore that you were limping into work on Monday morning, you are not alone.
The statistics are staggering on exercise and sport-related injuries.
According to the Centers for Disease Control and Prevention (CDC) 11,000 Americans visit emergency rooms for sports and exercise-related injuries on a daily basis. In fact, one in six visits to the ER is for a sports or exercise-related injury. Sports injuries are also now the second most leading cause of doctor visits, behind only the common cold. With studies showing that just one in 10 Americans exercises regularly, it's no surprise that a growing number of these injuries are occurring in "weekend warriors."
"Many injuries that we see in our office are from people who work behind a desk 40 to 50 hours each week or just aren't very active, so even a casual round of golf or a ballgame can lead to sore muscles and injury," says Dr. Jeff Pierce. "You can't go from doing nothing to going all out. That's when injuries occur."
So what can you do to avoid weekend warrior syndrome?
Dr. Pierce shares that most of these weekend warrior injuries can be avoided, or made less severe, by increasing your activities gradually and using proper form, technique and equipment. "Start slowly and build up to a fitness level you can maintain through regular exercise by fitting in physical activity throughout the week." stresses Dr. Pierce.
If you can't find the time to go to the gym, you can benefit from small steps to improve your fitness. Take just ten minutes in the morning and evening to stretch can keep your muscles limber. Taking the stairs or walking to lunch rather than driving, can increase your activity enough that your muscles don't atrophy during the workweek. Even small increments of physical activity and movement can help to reduce injury.
"So go out and enjoy that round of golf or ball game on the weekend; but stay active during the week too. Doing too much can send you to the doctor's office or emergency room with any number of common sports injuries, and keep you on the couch instead of participating in the activities you enjoy."
For more information on any type of musculoskeletal injury, call Michigan Sports and Spine Center at 248-680-9000 or visit www.michigansportsandspine.com.
ABOUT MICHIGAN SPORTS & SPINE CENTER:
We're innovative leaders utilizing cutting-edge technologies such as musculoskeletal ultrasounds, PRP, stem cell treatment, and other innovative procedures. Michigan Sports & Spine Center is committed to resolving your pain, not simply masking it. We treat the whole body, not just the injury, and perform preventative treatment so your injury doesn't come back. Our studies prove that Michigan Sports & Spine Center has patient success rates much higher than the national average. We treat everyone from high-profile athletes to your neighbor next door. Our primary focus is getting our patients back into the game of life!