Doctor Relieving Chronic Pain with Acupuncture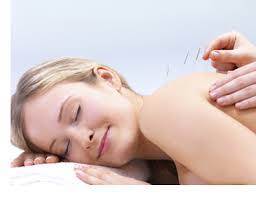 Chronic pain is one of the most serious health problems in the U.S., affecting an estimated 100 million Americans, according to a 2011 Institute of Medicine report. Nearly 90 percent of respondents to an IOM survey said they coped with some level of pain on a daily basis.
Chronic pain in the muscles and joints can make life miserable. Standard treatments like ice and heat, anti-inflammatory medications, physical therapy, and appropriate exercises can often ease the pain. But when they don't, acupuncture is an option with a good track record that's worth considering.
A growing number of Americans would prefer to stop popping pills and avoid going under the knife to treat a bum knee, achy lower back or sore hip. Instead, they're turning to the ancient Chinese practice of acupuncture to help ease chronic pain. More than 14 million Americans have tried acupuncture, according to the most recent statistics from the National Health Interview Survey (a large ongoing study that tracks healthcare habits in the US).
So, how does it work? Acupuncture involves placing hair-thin needles in various pressure points (called acupoints) throughout the body. Stimulating these points is believed to promote the body's natural healing capabilities and enhance its function. Acupuncture works by stimulating the central nervous system (the brain and spinal cord) to release chemicals called neurotransmitters and hormones. These chemicals dull pain, boost the immune system and regulate various body functions. It is virtually painless. Dr. Mark Juska utilizes electroacupuncture treatment (EA). It uses the same points as acupuncture, and operates on a similar principle. The difference is that the needles are attached to a device that sends electrical currents or pulses into the body. Electrical currents have stimulating effects, which can influence the cells, tissues and entire systems.
For new pain, acupuncture should not be the first solution. Dr. Juska recommends that individuals have a clear diagnoses of what is causing
their pain to rule out serious medical conditions that should be treated right away—and then acupuncture may be an option, if appropriate.
Acupuncture practitioners address the patient as a whole. The main goal is to treat the root cause of a patient's condition; but it is not uncommon for many chronic pain patients to not only notice improvement in pain, but to also begin noticing side benefits, such as improvement in sleep, mood, mental clarity, and overall improvement in quality of life.
What conditions are commonly treated by acupuncture? Hundreds of clinical studies on the benefits of acupuncture show that it successfully treats conditions ranging from musculoskeletal problems (back pain, neck pain, and others) to nausea, migraine headache, anxiety, depression, insomnia, and infertility.
Acupuncture is an effective treatment for chronic pain, including these diseases, symptoms or conditions:
Back pain Facial pain (including craniomandibular disorders)
Headache Hypertension, essential
Hypotension, primary Tennis Elbow
Knee pain Low back pain
Morning sickness Nausea and vomiting
Neck pain Periarthritis of shoulder
Postoperative pain Tendonitis
Rheumatoid arthritis Sciatica
Sprain Joint Pain
How much does acupuncture cost? Acupuncture is covered by some health insurance plans, but not all. If your plan covers acupuncture, our staff will bill your insurance company for the service and you will be responsible for any co-payments required. If your plan does not cover acupuncture, you may still receive the service for a cash fee.
How many treatments will you need? The frequency and number of treatments differ from person to person. Some people experience dramatic relief in the first treatment. For complex or long-standing chronic conditions, one to two treatments per week for several months may be recommended. For acute problems, usually fewer visits are required, usually eight to ten visits in total. An individualized treatment plan that includes the expected number of treatments will be discussed during your initial visit.
If you have been suffering from chronic pain or any of these conditions, we are currently accepting new patients at our locations in Clinton Twp., Livonia, and Southfield.
ABOUT MICHIGAN SPORTS & SPINE CENTER:
We're innovative leaders utilizing cutting-edge technologies such as musculoskeletal ultrasounds, PRP, stem cell treatment, and other innovative procedures. Michigan Sports & Spine Center is committed to resolving your pain, not simply masking it. We treat the whole body, not just the injury, and perform preventative treatment so your injury doesn't come back. Our studies prove that Michigan Sports & Spine Center has patient success rates much higher than the national average. We treat everyone from high-profile athletes to your neighbor next door. Our primary focus is getting our patients back into the game of life!