Simple Ways to Treat Back Pain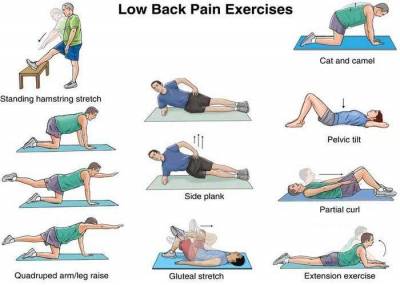 Are you part of the 65 million Americans affected by back pain? The good news is 95 percent of cases involving back pain do not require surgical treatment. As we age, lower back pain becomes increasingly more and more common. Not to mention, muscle elasticity and bone strength decrease over time, leaving your back vulnerable to strain and injury.
Simple Ways to Treat Your Pain
Practice yoga. Holding downward dog for five to ten seconds can help stretch your back muscles. This motion reduces pressure that can build up in the lower spine and cause pain. Remember to also tilt the pelvis under to avoid any further lower back strain. Pigeon pose is another great posture for backaches. Hip muscles can quickly become tight and shift strain to the back. Stretching out hip flexors and extensors can alleviate back pressure and pain.
Get some exercise. You may be tempted to stay in bed when your back acts up, but exercise and activity can actually help you heal faster and reduce pain. A study of 240 men and women found that regular exercise reduced pain by 28 percent and disability by 36 percent[i]. Low impact, moderate intensity exercise is the safest option. Avoid movements that trigger pain or require excessive jumping or squatting, which can exacerbate injuries. Take two to three minutes at the end of your workout to stretch your back thoroughly. Lie flat on your back and hug your knees to release any tension that developed during your workout.
Lose excess weight. As we gain weight, stress and pressure on the lower spine and back muscles increases. The heavy weight at the front of the body can cause an increased arch in the spine and may lead to injury and compression of the discs and nerves. Losing weight reduces the tendency to arch the back and relieves pressure on the lower spine and nerves.
If you smoke, stop. Smoking restricts the flow of nutrient-containing blood to spinal discs, so smokers are especially vulnerable to back pain.
Pay attention to your sleeping position. If you're prone to back pain, talk with your doctor about the best sleeping position. Sleeping on your side with your knees pulled up slightly toward your chest is sometimes suggested. Prefer to sleep on your back? Put one pillow under your knees and another under your lower back. Sleeping on your stomach can be especially hard on your back. If you can't sleep any other way, place a pillow under your hips.
Pay attention to your posture. The best chair for preventing back pain is one with a straight back or low-back support. Keep your knees a bit higher than your hips while seated. Prop your feet on a stool if you need to. If you must stand for a prolonged period, keep your head up and your stomach pulled in. If possible, rest one foot on a stool — and switch feet every five to 15 minutes.
Be careful how you lift. Don't bend over from the waist to lift heavy objects. Bend your knees and squat, pulling in your stomach muscles and holding the object close to your body as you stand up. Don't twist your body while lifting. If you can, push rather than pull heavy objects. Pushing is easier on the back.
If your back pain is persistent or excruciating, you should see your personal physician urgently. If you are in the Michigan cities of Clinton Twp., Livonia or Southfield, call us for a consultation at 248-680-9000.
Acute Injuries:
bruises/contusions
puncture wounds/cuts
ligament injuries
injuries to tendons
strains
fractures
bone dislocation
Overuse injuries:
Achilles tendonitis/tendinosis – the breakdown of soft tissues around and in the Achilles tendon that connects the calf muscles to the heel bone.
Stress fracture – a hairline crack in the bone.
Retrocalcaneal bursitis – inflammation of the bursa, which causes rawness, sensitivity and swelling of the back of the heel and the ankle.
Plantar fasciitis – inflammation of the thick tissue on the bottom of the foot, which in turn causes pain when walking.
Metatarsalgia – an ache in the front (ball) of the foot.

TREATMENT:
There are several treatment options for foot and ankle pain. Be sure to contact Michigan Sports & Spine Center or another specialist in order to receive the proper diagnosis and receive the proper treatment plan.
Physical Therapy/Exercise Training:
The combination of exercise training and physical therapy commonly includes stretching, strengthening and low-impact aerobic exercises.
A physical therapist can design a regimen that helps to reduce pain and discomfort and strengthen the muscles that affect your ankles, therefore getting you back on track.
Injections:
Trigger point injections – a procedure used to treat painful areas of the muscle that contain trigger points, or knots of the muscle that develop when muscles do not relax. Involves the injection of medication directly into the trigger point.
Facet injections – entails injecting a small amount of local anesthetic and/or steroid medication, which anesthetizes the facet joints and blocks pain.
Weight Loss and Exercise:
Losing extra weight can also help to lose the pain, and increase your comfort level and your quality of life.
Exercise can aid in achieving your weight loss goals, and at the same time strengthen your muscles and decrease pain.
Massage Therapy:
A deep massage will decrease muscle spasms, fight inflammation and encourage relaxation.
Osteopathic Manual Medicine/Manipulations:
Relieves pain by reducing pressure on sensitive structures, increasing flexibility, improving blood flow and decreasing muscle tension.
Acupuncture:
Based on the principles of traditional Chinese medicine, acupuncture involves sticking very thin needles into specific energy points within the muscle/skin in an effort to diminish inflammation, pain and discomfort.
Acupuncture is successful because it helps to release endorphins and serotonin, which act to reduce pain.
RICE:
Rest your ankle or foot. Don't walk or put weight on it.
Ice your ankle or foot with an ice pack for 20-30 minutes, several times a day.
Compress and support your foot or ankle with bandages or ace-wraps.
Elevate you foot or ankle for 48 hours. Keep your ankle/foot propped up on pillows about your heart level.
Sources: WebMD
ABOUT MICHIGAN SPORTS & SPINE CENTER:
We're innovative leaders utilizing cutting-edge technologies such as musculoskeletal ultrasounds, PRP, stem cell treatment, and other innovative procedures. Michigan Sports & Spine Center is committed to resolving your pain, not simply masking it. We treat the whole body, not just the injury, and perform preventative treatment so your injury doesn't come back. Our studies prove that Michigan Sports & Spine Center has patient success rates much higher than the national average. We treat everyone from high-profile athletes to your neighbor next door. Our primary focus is getting our patients back into the game of life!