Foot & Ankle Treatment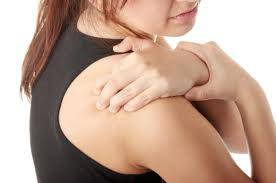 If you're a hockey fan, you no doubt heard about shoulder injuries sidelining some of your favorite players. Just two days ago Red Wings' reported that players Stephen Weiss,Justin Abdelkader and Jonas Gustavsson were all out with shoulder injuries.
But, it's not just professional athletes that are susceptible to this type of injury. In 2006, approximately 7.5 million people went to the doctor's office for a shoulder problem, including shoulder and upper arm sprains and strains.
Most problems in the shoulder involve the muscles, ligaments, and tendons, rather than the bones and can be due to multiple dysfunctions including rotator cuff abnormalities and inflammatory pain. Athletes are especially susceptible to shoulder problems because they can develop slowly through repetitive, intensive training routines. Injuries can also occur during everyday activities such was washing walls, hanging curtains, gardening, and even styling your hair.
Some people will have a tendency to ignore the pain and "play through" a shoulder injury, which only aggravates the condition, and may possibly cause more problems. People also may underestimate the extent of their injury because steady pain, weakness in the arm, or limitation of joint motion will become almost second nature to them.
If you are experiencing pain in your shoulder, ask yourself these questions:
Is your shoulder stiff? Can you rotate your arm in all the normal positions?
Does it feel like your shoulder could pop out or slide out of the socket?
Do you lack the strength in your shoulder to carry out your daily activities?
If you answered "yes" to any one of these questions, you should consult your physician for help in determining the severity of the problem. Early detection is the key to preventing serious shoulder injuries.
If you're searching for a physician in the Livonia, Clinton Twp., or Southfield areas, please give us at 248-680-9000. We would be happy to discuss your medical condition.
If you find this article helpful, sign up for our monthly newsletter Healthy, Active and Pain Free Living – full of helpful injury prevention tips, fitness tips, healthy recipes, Ask the Doctor, and more. Sign up here.
ABOUT MICHIGAN SPORTS & SPINE CENTER:
We're innovative leaders utilizing cutting-edge technologies such as musculoskeletal ultrasounds, PRP, stem cell treatment, and other innovative procedures. Michigan Sports & Spine Center is committed to resolving your pain, not simply masking it. We treat the whole body, not just the injury, and perform preventative treatment so your injury doesn't come back. Our studies prove that Michigan Sports & Spine Center has patient success rates much higher than the national average. We treat everyone from high-profile athletes to your neighbor next door. Our primary focus is getting our patients back into the game of life!