Preventing Hockey Injuries – Ice Arena Adds Unique Safety Feature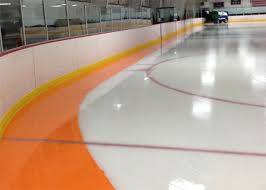 Visitors to the Berkley Ice Arena, celebrating it's 40th year, are going to notice something quite a bit different when they look at the ice surface this season.
That's because the arena is the first in Michigan to have a "look up line" or "warning track" painted around the boards to remind players to keep their heads up in that area.
The orange line, which measures about 40 inches off the boards, was brought to Berkley by Dr. Jeff S. Pierce, who founded the nonprofit Athletes Unlimited for athletes with disabilities and is the medical director of the Michigan Sports & Spine Centers.
"I think this is truly going to be a game changer," Dr. Pierce said. "It is something that makes sense and is just going to enhance the game and not take away from it."
Tom Colwell, Berkley Parks and Recreation Director, said he jumped at the idea of the line after hearing a story from his nephew about a classmate who broke his neck when he was checked into the boards.
Pierce said the line is an "evolution of the game," and his goal is to raise awareness and put it in arenas throughout the state. "If we can save one kid's injury I am happy with that," he said.
This Look-Up Line is a preventative approach to making the game of hockey safer for participants of all ages without affecting the speed, intensity, heritage or additional rule changes. The line serves the following purposes:
· Warns players to keep their heads up to prevent head and neck injuries.
· Reminds players to be careful not to body check opposing players from behind.
· Allows players enough time to make proper adjustments before hitting the boards.
· Reminds on-ice coaches and officials to continue to warn players about hockey safety.
If you would like to learn more about orange line safety and help to get it into more rinks, please email Dr. Jeff S. Pierce at PreventHockeyInjuries@gmail.com
ABOUT MICHIGAN SPORTS & SPINE CENTER:
We're innovative leaders utilizing cutting-edge technologies such as musculoskeletal ultrasounds, PRP, stem cell treatment, and other innovative procedures. Michigan Sports & Spine Center is committed to resolving your pain, not simply masking it. We treat the whole body, not just the injury, and perform preventative treatment so your injury doesn't come back. Our studies prove that Michigan Sports & Spine Center has patient success rates much higher than the national average. We treat everyone from high-profile athletes to your neighbor next door. Our primary focus is getting our patients back into the game of life!