Local Doctor Committed to Bringing Injury Preventing Safety Feature to ALL Michigan Hockey Rinks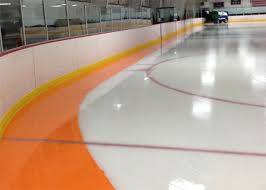 Fall has arrived, and so has the season for contact sports – football and ice hockey – and the sports injuries that accompany them. Jeff S. Pierce, DO, Medical Director of Michigan Sports and Spine and Founder of the Athletes Unlimited, a non-profit for athletes with disabilities, is already beginning to see young hockey players with injuries sustained from hitting the boards; and this is something that Dr. Pierce works tirelessly to prevent.
The safety challenge in ice hockey lies in the conflict that we are creating new ways to develop bigger, faster and stronger athletes while trying to keep safety a priority; but unfortunately, severe injuries are still common despite multiple rules changes every year. So when Dr. Jeff Pierce heard about a safety feature that will help prevent injuries, won't change the game as it's played and is cost effective, he knew it would be a game changer and a win-win for everybody.
The game changer is the Look-Up Line™ or "warning track" (created by Tom Smith, a Boston Bulldogs hockey player who suffered paralysis from hitting the boards), a 40-inch-wide bright orange line or band on the ice along the boards. It is the same safety concept as the warning track in baseball that the MLB implemented way back in 1949.
The Look-Up Line™ is a preventative approach, reminding hockey players to pick up their heads and make proper bodily adjustments when they are near the boards. The goal is to teach players to keep their heads up when they're near the boards, so if they get pushed or checked into the boards (which is an illegal move), they won't sustain a concussion, injury or even a broken neck.
"I think this is truly going to be a game changer," Dr. Pierce said. "It is something that makes sense and is just going to enhance the game and not take away from it. The line is an evolution of the game. Most other sports warn players that they are about to hit a solid object, but hockey gives no warning." His goal is to raise awareness and put this safety feature in arenas throughout the state. He adds, "If we can save one kid's injury, I am happy with that."
Dr. Pierce brought the idea of this safety orange line to Berkley Ice Arena, where he sponsored the installation of the Look-Up Line; the first rink in Michigan to do so. He is currently talking with Troy Sports Center's Dennis Bostick, who is seriously considering implementing this safety precaution in their four rink complex in Troy, Michigan. It is Dr. Pierce's goal to get this orange line installed in every rink in Michigan, with the goal of making ice hockey safer for everyone.
"The positive", says Dr. Pierce "is that the Look-Up Line won't affect the speed, intensity or heritage of the game, or require any new rules. Instead, the line allows the game to flow uninterrupted, while providing players with a visual cue when they're approaching the boards. That gives them time to make adjustments to prevent injury."
Dr. Pierce adds that "Participating in sports is a big part of life for so many and it's my goal to educate and work with parents and athletes to ensure we do all we can to keep athletes safe. It's also the reason I founded Athletes Unlimited, a non-profit for athletes with physical disabilities, that provides much needed resources such as wheelchairs, prosthetics, and support to keep all athletes, regardless of physical abilities, active in the sports they love. Our motto is that life is not intended to be a spectator sport."
If you would like to learn more about the orange Look-Up Line safety precaution and help to get it into more rinks or would like to learn about getting help with a sponsorship to get this in your home rink, please email Dr. Jeff S. Pierce at PreventHockeyInjuries@gmail.com or contact Steve Olson at Michigan Sports and Spine Center at 248-680-9000.
If you would like to learn more about helping athletes with disabilities, check out AthletesUnlimited.com. Athletes Unlimited is dedicated to providing social, recreational and athletic outlets to children and adults with physical disabilities. The guiding philosophy behind the organization is that life is not intended to be a spectator sport. Everyone, regardless of ability, should be given the opportunity to participate in sports. This is accomplished by sponsoring athletes, helping to purchase athletic wheelchairs or prosthetic limbs, offering educational scholarships to disabled athletes and many other community and individual services.
_______________________________
For those sports fans that aren't quick to embrace change, we would like to point out that when the change keeps athletes safer without negatively impacting play, it's a win-win for everyone. Here are a few examples of sports that have made playing surface modifications to help ensure a participants' safety before hitting a solid object and that have been fully accepted.
BASEBALL
In July 1949 the MLB implemented a warning track ranging 10-15 feet around the perimeter of their fields.
FOOTBALL
In 1974 the NFL moved goalposts to the back of the end zone.
Additionally, it is required that players and coaches stand 5 yards back from the field of play.
BASKETBALL
The NBA evolved its hoop to the current padded L-shaped framing posts.
Players, coaches and fans are required to sit at least 3-5 feet back from the court of play.
SWIMMING
All Olympic size pools have black lines on the bottom of the pools in each swimming lane. These lines end roughly 6-½ feet before the edge of the wall.
ABOUT MICHIGAN SPORTS & SPINE CENTER:
We're innovative leaders utilizing cutting-edge technologies such as musculoskeletal ultrasounds, PRP, stem cell treatment, and other innovative procedures. Michigan Sports & Spine Center is committed to resolving your pain, not simply masking it. We treat the whole body, not just the injury, and perform preventative treatment so your injury doesn't come back. Our studies prove that Michigan Sports & Spine Center has patient success rates much higher than the national average. We treat everyone from high-profile athletes to your neighbor next door. Our primary focus is getting our patients back into the game of life!