Athletes Overcoming Disabilities to Compete in Elite Sports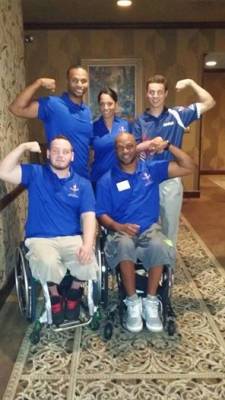 Athletes Unlimited is a non-profit organization dedicated to providing social, recreational and athletic outlets to people with disabilities. Our guiding philosophy is that life is not intended to be a spectator sport. Everyone, regardless of ability, can benefit from participating in sports. It continues to be Athletes Unlimited's primary goal to provide these opportunities to as many physically challenged individuals as possible.
Athletes Unlimited recently hosted its 17th annual charity golf outing where Dr. Pierce introduced the newest sponsored athlete, Danny Scrivano. Danny is a 17 year old from Shelby Township who will begin his senior year at Utica Eisenhower this fall.
Danny is a very accomplished athlete who has hemiplegia cerebral palsy from a stroke he had at age 2. It took incredible determination and commitment to overcome the partial paralysis and learn to walk and talk again. He not only accomplished that, but has gone on to be an elite athlete in both tennis and track and field. Danny encompasses the spirit of Athletes Unlimited and we are so pleased to be a sponsor for him and to have him an ambassador.
Danny is one of six members named to the 2014 United States Junior National Para Table Tennis Team. He recently traveled with Team USA to Romania and Spain for international competition in order to earn factor points that will help qualify him for the Paralympics. Danny trains with former women's Olympic Coach, Jon Bosika out of the Davison Athletic Club.
Danny also competes in track and field. He competes both regionally and nationally in Para Events. He competes in the 100m, 200m, Shot Put, Discus and Long Jump. He received the prestigious High School All American Award in the Long Jump in 2013 from the United States Olympic Committee. He has recently attended two USOC sponsored, invitation only track training camps at the Spire Institute in Ohio and the Olympic Training Center in Chula Vista, CA. Danny competes in the T37 and F37 classes.
To round out his athletic achievements, Danny will begin his third season on the Eisenhower Varsity Tennis Team this fall. He is ranked 4th on the team and will most likely play 1st doubles for the 3 time Macomb County Team of the year. Danny has competed in the State Tennis Finals for two years running and won a match at 4th doubles at states as a sophomore.
Danny's future goals include the Paralympic Games in Rio in 2016, Tokyo in 2020 and beyond. He plans to go to college and is considering a career as a high school Physical Education Teacher and Coach. For fun, Danny works out at the gym and enjoys a competitive game of basketball.
To follow Danny's story, like his Facebook Fan Page at www.facebook.com/ScrivanoParalympics.
To read more about all of the Athletes Unlimited athletes, visit www.AthletesUnilmited.com.
ABOUT MICHIGAN SPORTS & SPINE CENTER:
We're innovative leaders utilizing cutting-edge technologies such as musculoskeletal ultrasounds, PRP, stem cell treatment, and other innovative procedures. Michigan Sports & Spine Center is committed to resolving your pain, not simply masking it. We treat the whole body, not just the injury, and perform preventative treatment so your injury doesn't come back. Our studies prove that Michigan Sports & Spine Center has patient success rates much higher than the national average. We treat everyone from high-profile athletes to your neighbor next door. Our primary focus is getting our patients back into the game of life!