"I've Thrown Out My Back!" – What Does that Mean & What's Next?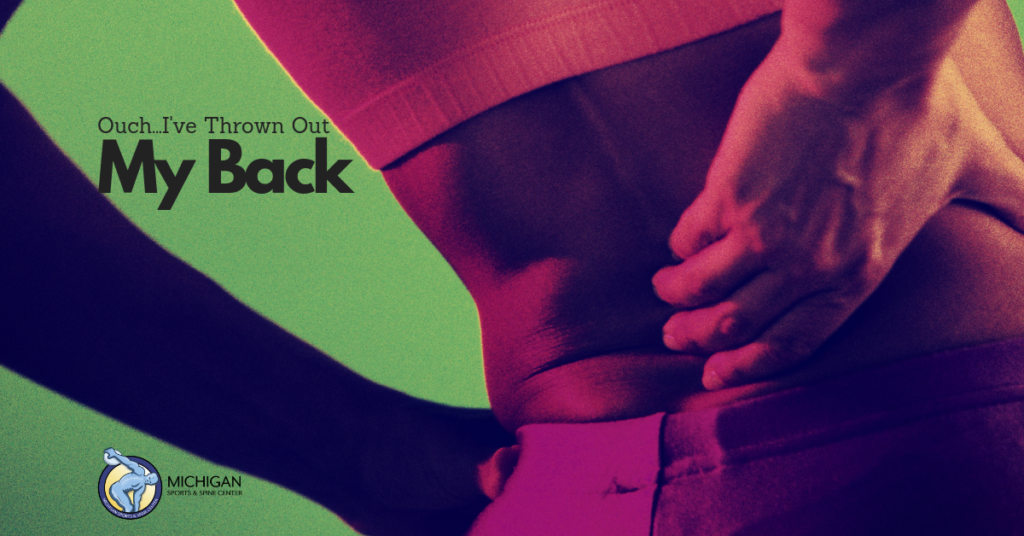 "I've Thrown Out My Back"
What Does that Mean and What's Next?
So often we hear our friends, family, or coworkers say, "I've thrown out my back." But what does that really mean? There are a hundred different ways one could hurt their back. Most of the time, they're referring to a sudden pain during a specific activity or motion. The culprit is often a strain, spasm, or those dreaded disk injuries.
At least 80 percent of us will experience lower back pain at some point in our lives, whether you're a sedentary office worker or an active healthcare worker on their feet all day. Acute back pain can happen to anyone but–unsurprisingly–becomes increasingly more common with age. We wanted to dig deeper into the subject and offer our advice on the best ways to recover.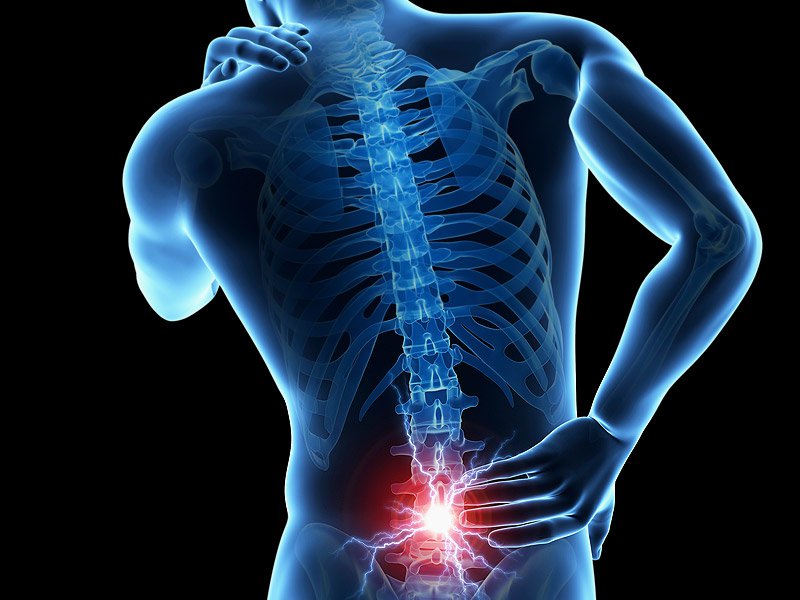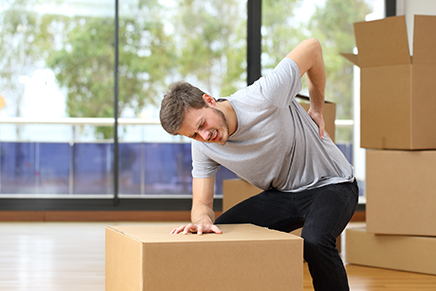 Low-Back Strains
When your back "goes out" the pain can be so severe that it's easy to assume it's the worst case; a herniated disk. And yes, for some, their back pain will actually be a herniated disk, but really it's rarer than you'd think. More often than not, lower back pain tends to be either a simple sprain or strain of the low back. Sprains and strains are frequently preceded by heavy lifting or excess strain to the back–like bending over for too long at just the right (and by that we mean wrong) angle. It really on takes something as simple as bending and lifting to cause that back pain.
What to do Next?
A trip to the emergency room is not needed for back pain unless you're feeling numbness in your legs. Most back strains respond well to some over the counter anti-inflammatory such as Aleve or Ibuprofen. Lie on a flat surface and apply ice to the affected area and don't neglect the resting part.
After that rest, assess the level of the pain in your back by making slow movements. If sharp pain returns, stop your activity and get back to rest and ice. After a few days of rest and ice, if mobility in your back hasn't returned, it's best to make an appointment with the spine doctor.
Risk Factors
Lack of exercise: frail, unused muscles
Age: around the 30 – 40 year age range, back pain becomes more prevalent
Excess pounds: carrying extra weight puts extra stress on the back
Improper lifting: using your back instead of your legs can cause pain
Poor posture: sitting at a desk with poor posture can lead to lower back pain
Smoking: can keep the body from distributing nutrients to the discs in our backs
Diseases and sicknesses: some types of cancers, arthritis, blood clots, kidney infections, kidney stones and bone loss can contribute to back pain
Psychological conditions: people prone to anxiety and depression have an increased risk of lower back pain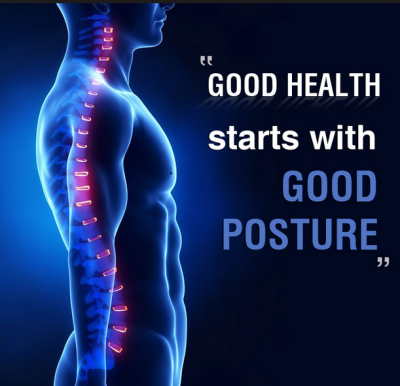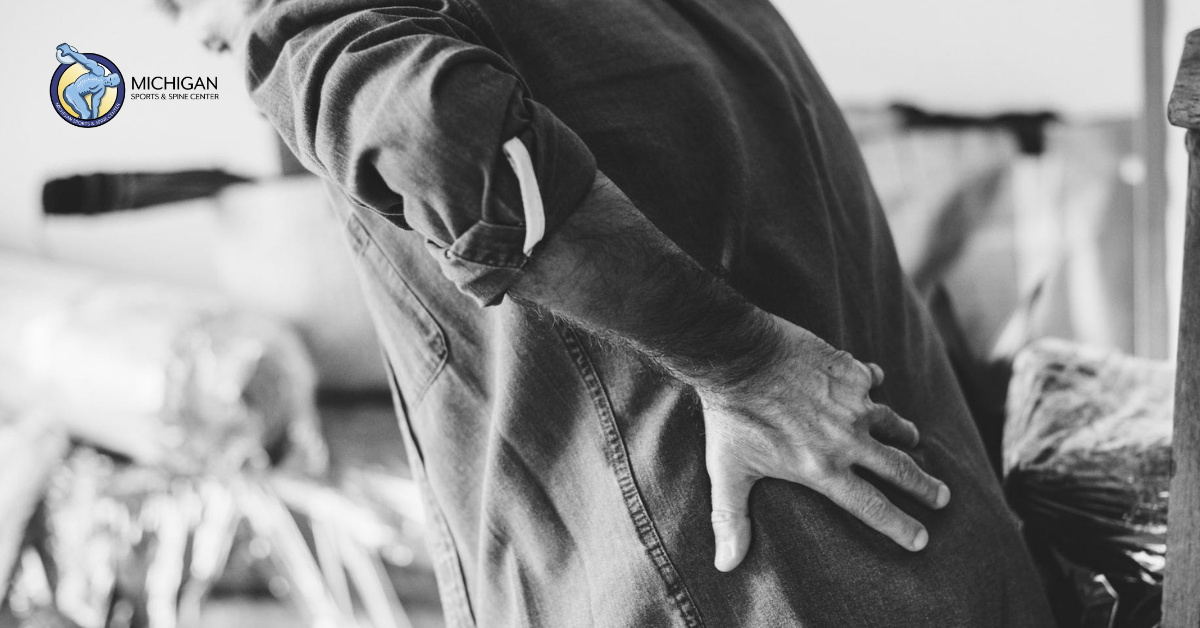 TREATMENT
Sometimes low back pain gets better on its own; however, if it lasts longer than a week, you should book an appointment with Michigan Sports & Spine Center or another specialist.
There are several effective treatment options for low back pain:
Injections:
Trigger point injections: a procedure used to treat painful areas of the muscle that contain trigger points, or knots of muscle that develop when muscles do not relax, involves the injection of medication directly into the trigger point
Epidural injections: an injection into the spine, delivering steroids that can provide low back pain relief by reducing inflammation
Manipulations:
Applying pressure to the bones and the surrounding tissues the treatment reduces pain, commonly decreasing the need for meds.
Rapidly advances physical therapy.
Requires very few passive forms of treatment, such as bed rest.
Physical Therapy/Exercise Training:
The combination of exercise training and physical therapy usually includes stretching, strengthening and low-impact aerobic exercises.
Massage Therapy:
Improves blood flow and reduces muscle stiffness.
Acupuncture:
An ancient Chinese medical practice that seeks to ease the pain by balancing the body's natural energy pathways and releasing serotonin, a 'feel-good' chemical that relieves pain and discomfort.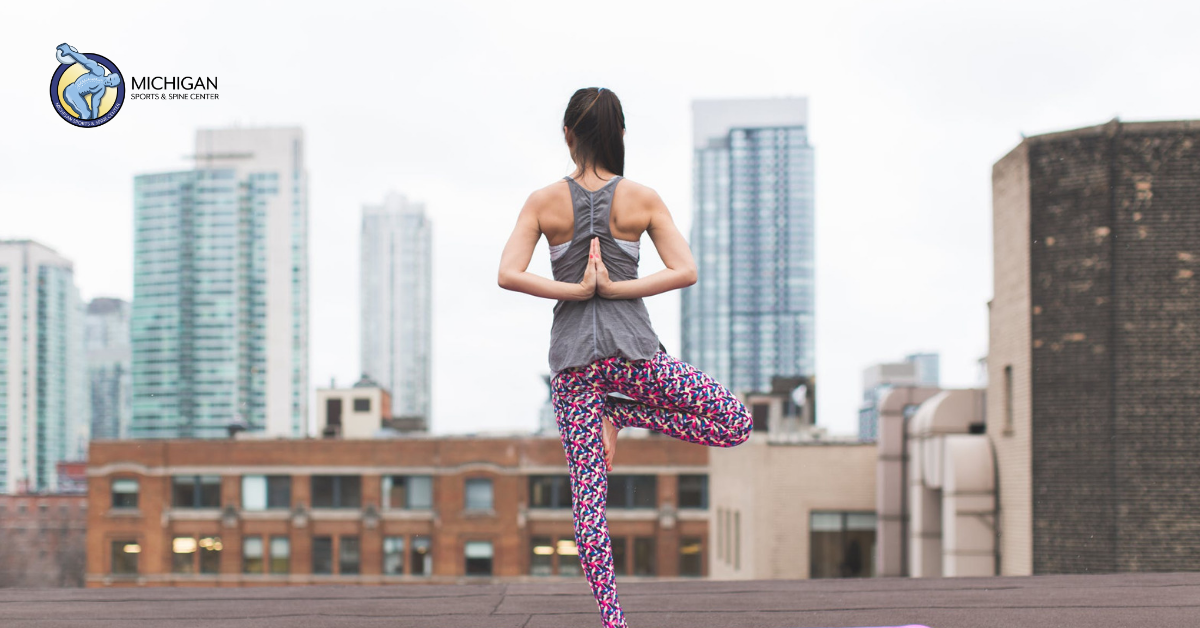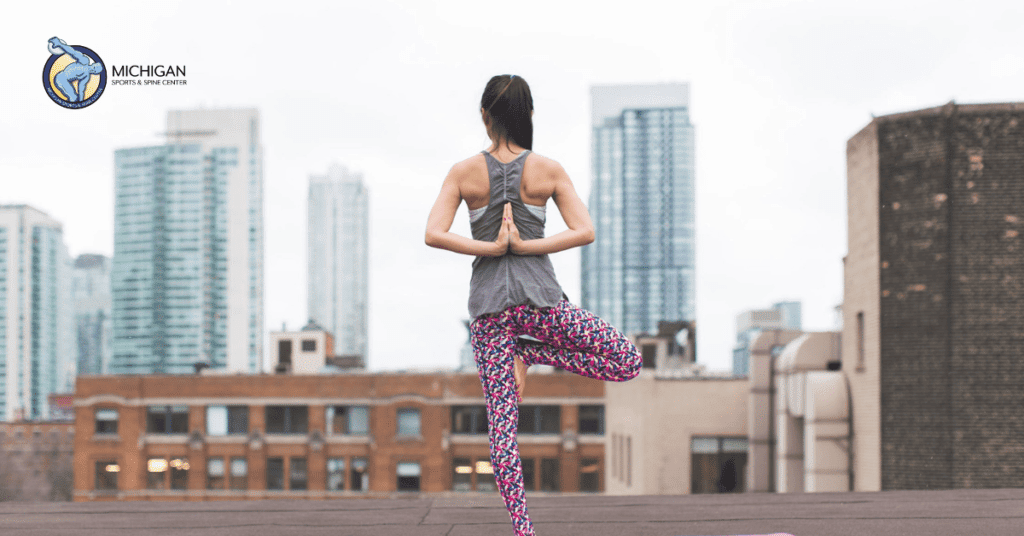 Prevention
Keep your back healthy and strong:
Exercise: Low-impact aerobic activities can increase endurance and strength in your lower back and allow your muscles to function better.
Walk: Studies suggest that a simple regimen of daily walking can help individuals with lower back pain. It's literally as simple as taking a stroll through the park! When people walk actively, abdominal and back muscles work in much the same way as when they complete exercises that target these areas.
Stretching: Slow and controlled movements.
Practice yoga: There are various studies and evidence that proves yoga works.
Maintain a healthy weight: If you're overweight, slimming down can prevent pain.
Use proper body mechanics: Stand smart, maintain a neutral pelvic position. Sit smart, choose a chair with good lower back support, a swivel base and armrests. Lift smart, and avoid heavy lifting.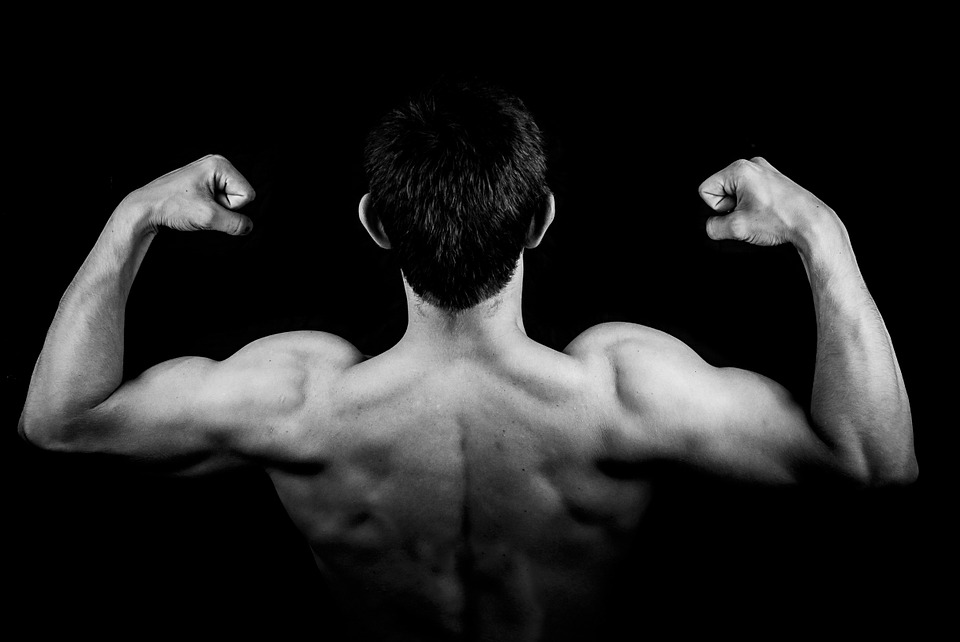 ABOUT MICHIGAN SPORTS & SPINE CENTER:
We're innovative leaders utilizing cutting-edge technologies such as musculoskeletal ultrasounds, PRP, stem cell treatment, and other innovative procedures. Michigan Sports & Spine Center is committed to resolving your pain, not simply masking it. We treat the whole body, not just the injury, and perform preventative treatment so your injury doesn't come back. Our studies prove that Michigan Sports & Spine Center has patient success rates much higher than the national average. We treat everyone from high-profile athletes to your neighbor next door. Our primary focus is getting our patients back into the game of life!
Sources: WebMD, Everyday Health