What You Should Know About the Shoulder: Shoulder Injury Causes & Treatment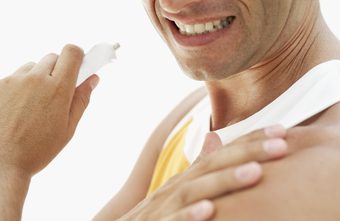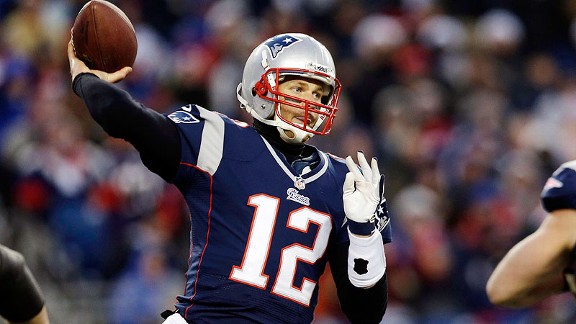 The shoulder is the most mobile joint in the body!
What most people think of as their shoulder is really several joints that unite with muscles and tendons to allow for a wide range of motion in the arm – from scratching your back to throwing the perfect touchdown.
Your shoulder is comprised of three bones:
upper arm bone, a.k.a. humerus
shoulder blade, a.k.a. scapula
collarbone, a.k.a. clavicle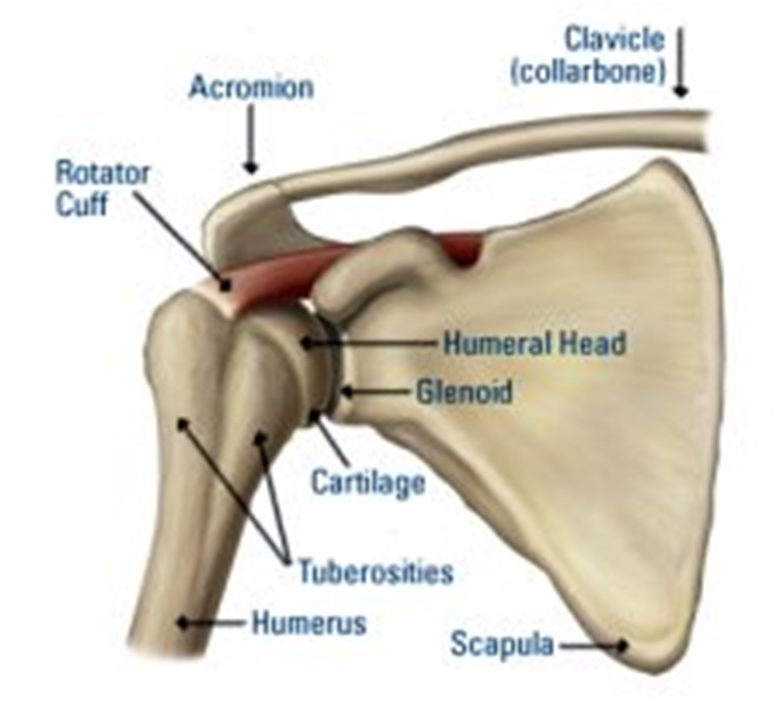 The head of your upper arm bone fits into a rounded socket in your shoulder blade, called the glenoid. A grouping of tendons and muscles keeps your arm bone centered in your shoulder socket. These tissues are known as the rotator cuff. The rotator cuff covers the head of your upper arm bone and attaches it to your shoulder blade.
Most problems in the shoulder involve ligaments, tendons and muscles, rather than the bones, this is caused by a multitude of dysfunctions including, inflammatory pain and rotator cuff abnormalities. Athletes are especially susceptible to shoulder issues because they can develop slowly through repetitive and intensive training routines. Household activities and everyday chores such as gardening, washing dishes, painting a room, hanging curtains, filing and blow-drying or styling your hair can even cause injury or irritation.
Causes:
Most shoulder problems fall into five major categories:
TENDON INFLAMMATION
Bursitis
Commonly, excessive use of the shoulder leads to swelling and irritation of the bursa between the rotator cuff and part of the shoulder blade.
Bursae are little, fluid-filled sacs located in joints throughout the body, including the shoulder. Bursae act as cushions between bones and overlying gentle tissues, they help to diminish friction between the sashaying muscles and the bone.
Frequently, bursitis strikes in association with rotator cuff tendinitis.
Tendinitis
A tendon is a cord that connects muscle to bone.
Tendinitis is a condition in which the tissue connecting muscle to bone becomes irritated and inflamed. Generally, tendinitis ensues when the tendon is worn down, usually slowly and gradually, over a period of time.
Tendinitis can be thought of as the same wearing process that the sole of a shoe goes through, eventually splitting from overuse.
Tendinitis is either acute or chronic:
Acute – excessive athletics, i.e. throwing a ball or other overhead activities lead to acute tendinitis.
Chronic – progressive diseases, such as arthritis or repetitive wear and tear due to aging, can lead to chronic tendinitis.
Tendon Tears
Separating and ripping of tendons can occur after a severe injury or progressive changes in the tendons from aging, long-term overuse, wear and tear or unexpected injury. Tears can be partial or completely split, ripping the tendon into two pieces.
In the majority of complete tears cases, the tendon is removed from attaching to the bone.
INSTABILITY
Shoulder instability transpires when the head of the upper bone is forced from the shoulder socket. This happens due to abrupt injury or from overuse.
Dislocations can be partial, with the ball of the upper arm partially removed from the socket (a.k.a. subluxation). A complete dislocation means the ball is outside of the socket.
Once the tendons, ligaments and muscles around the shoulder become free or ripped, dislocations can occur repeatedly. Frequent dislocations cause discomfort and unsteadiness when your arm is raised or moved away from the body. Recurring episodes of dislocations or subluxations lead to an amplified risk of developing arthritis in the joint.
IMPINGEMENT
Shoulder impingement strikes when the top of the shoulder blade (acromion) places stress on the underlying soft and gentle tissues when the arm is lifted away from the body.
As the arm is raised, the acromion rubs and pinches on the rotator cuff tendons and bursa.
Unfortunately this can lead to tendinitis and bursitis, producing discomfort and limiting movement. As time goes by, severe impingement can lead to a rotator cuff tear.
ARTHRITIS
Arthritis can cause shoulder pain and discomfort.
The most common type of arthritis in the shoulder is osteoarthritis (a.k.a. 'wear and tear' arthritis). Inflammation, pain and rigidity are symptoms that typically begin middle age. Osteoarthritis advances slowly; however the discomfort it causes worsens over time.
Frequently people with arthritis try to avoid moving their shoulder in an attempt to minimize the pain. Don't do this because it can cause stiffening or tightening of the gentle tissue parts of the joint, resulting in a distressed restriction of motion and movement.
Rotator cuff and biceps tendon injuries are the most common.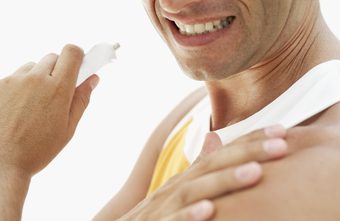 FRACTURE/BROKEN BONE
Fractures are broken bones.
Shoulder fractures commonly involve the collarbone (clavicle), upper arm bone (humerus) and shoulder blade (scapula).
Fractures produce excessive pain, inflammation and bruising.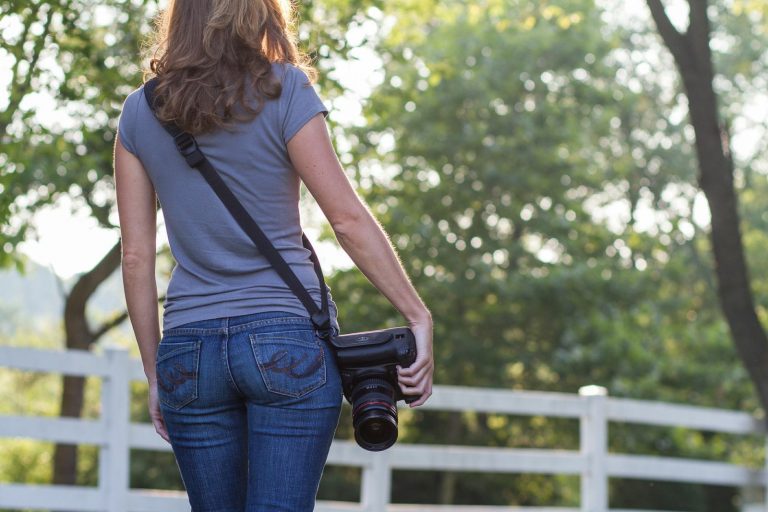 Sometimes shoulder pain is the result of injury to another part of the body, usually the neck or bicep.
TREATMENT
90% of people with shoulder pain will respond to simple treatment methods such as rest, exercise, medications and altering their activities.
There are several treatment options available for shoulder injuries. Before beginning a treatment plan, consult Michigan Sports & Spine or another shoulder specialist in order to get the correct diagnosis and treatment.
Trigger Point Injections – this procedure is used to treat painful areas of the muscle that contain trigger points or knots of muscle that have formed due to not allowing the muscles to relax.
Osteopathic Manual Medicine/Manipulations – used to relieve pain by reducing pressure on sensitive structures, increasing flexibility, improving blood flow and decreasing muscle tension.
Traditional Massage Therapy – a deep tissue massage is helpful for mild-to-moderate strains because it decreases muscle spasm, fights inflammation and encourages relaxation. Start with a 30-minute massage that focuses on your shoulder, mid back and lower neck areas.
Acupuncture – based on the principles of traditional Chinese medicine, acupuncture involves sticking very thin needles into specific energy points within the muscle/skin in an effort to diminish inflammation and discomfort. Acupuncture works by releasing endorphins and serotonin, which act to reduce pain.
Physical Therapy/Exercise Training – the combination of exercise training and physical therapy usually includes stretching, strengthening and low-impact aerobic exercises.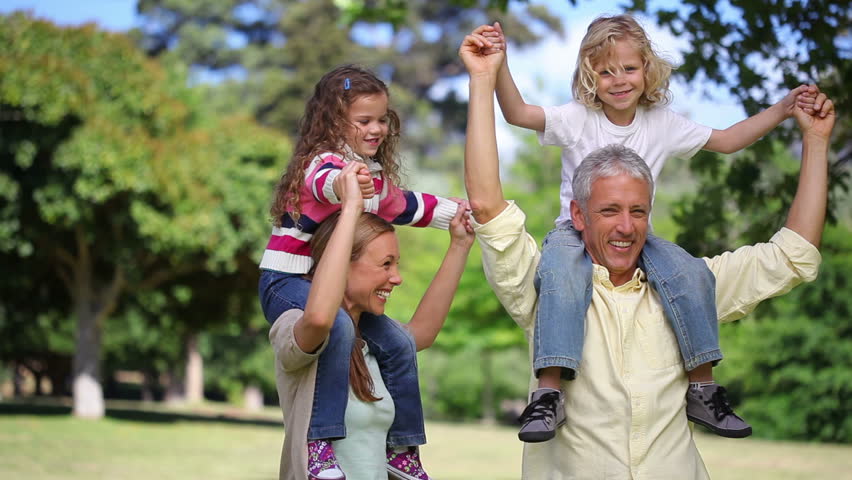 PREVENTION TIPS
There are a number of things you can do to prevent shoulder pain and injury from occurring:
Warm up – exercising cold muscles is not what you want to do. Before working out, playing a game or a match, taking a run, whatever activity it is, perform a mild warm up so your body can prepare itself for the intense workout that will follow.
Stretch – performing simple shoulder exercises will help to stretch and strengthen your muscles and rotator cuff tendons.
Build up your endurance – it's essential to increase your endurance over time. If you haven't stepped out on the basketball court for a few months, consider playing for a shorter period (20 minutes) of time and work your way up to a longer period of playing time. Don't do too much too soon. If your body isn't used to it, gradually build up.
Rest – if you're experiencing shoulder pain while performing certain activities, stop that activity for a period of time. Allowing your shoulder to rest will give it the time it needs to heal.
Ice it – if you've had previous injuries or issues with your shoulders, ice it for 15 minutes after exercising.
Be mindful of your posture – many injuries are related to sustained posture. Be mindful of the way you're sitting and standing. Straighten up, no slouching.
ABOUT MICHIGAN SPORTS & SPINE CENTER:
We're innovative leaders utilizing cutting-edge technologies such as musculoskeletal ultrasounds, PRP, stem cell treatment, and other innovative procedures. Michigan Sports & Spine Center is committed to resolving your pain, not simply masking it. We treat the whole body, not just the injury, and perform preventative treatment so your injury doesn't come back. Our studies prove that Michigan Sports & Spine Center has patient success rates much higher than the national average. We treat everyone from high-profile athletes to your neighbor next door. Our primary focus is getting our patients back into the game of life!