Injure Your Wrist? Try Using the TV Remote with Your Other Hand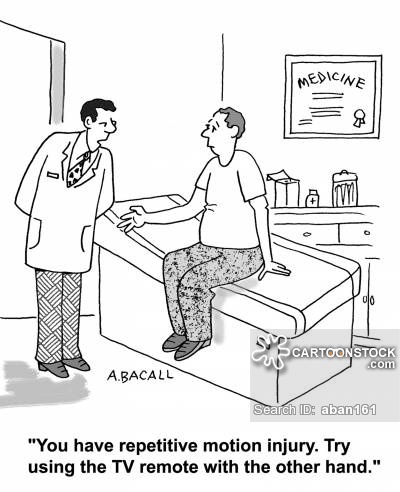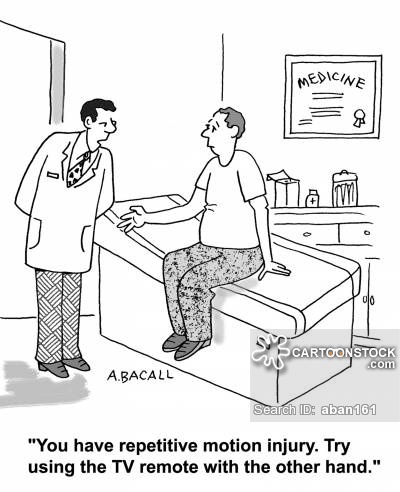 We see everything at Michigan Sports & Spine Center.
HAND AND WRIST INJURY
At one point or another, we've all had a minor problem with a wrist, hand or finger. Symptoms can occur from everyday wear and tear, overuse, injury, or the natural aging process.
Hand and wrist injuries most commonly occur during:
work-related tasks
sports or recreational activities
accidental falls
projects or work around the house, especially when using machinery like a lawn mower, snow blower or hand tools
physical fighting
One of the keys to treating any hand or wrist condition is identifying the cause of the pain through proper evaluation and diagnosis. At Michigan Sports & Spine Center we conduct imaging tests, such as an x-ray, MRI, CT scan or MSK ultrasound and EMG testing, like electromyography.
SYMPTOMS:
If you or a loved one is experiencing any of the following symptoms, seek proper medical attention:
The hurt joint or limb looks odd, is a strange shape, or is out of its normal position.
The skin over the site of an injury is broken.
You're in severe pain.
Within the first 30 minutes of the injury, you have a lot of swelling.
Bruising – after a hand or wrist injury, bruising may extend to the fingers from the effects of gravity.
If you experience coldness or grayness in your finger, hand or wrist.
A clicking, shifting or grating noise occurs while moving your wrist, hand or fingers.
There are signs of nerve or blood vessel damage, such as tingling, numbness, or pins-and-needles feeling. Not being able to move the limb normally due to weakness, not just pain.
We think this is fairly obvious…if a bone is poking through the skin, call 911 immediately or rush to the nearest hospital. Like I said earlier, we see EVERYTHING!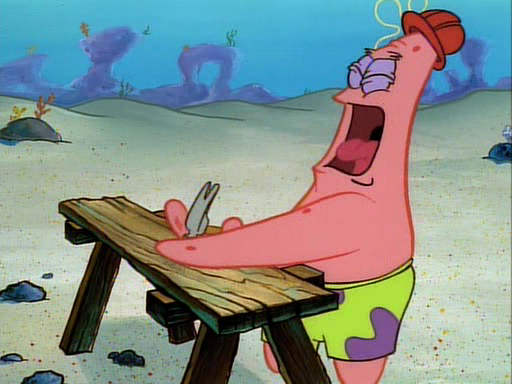 OVERUSE:
When too much stress is placed on a joint or other tissue, commonly by "overdoing" an activity or repeating the same motion, overuse injuries occur. Overuse injuries include:
Carpal tunnel syndrome – caused by pressure on a nerve in the wrist. Symptoms include numbness, weakness, tingling or pain of the hand and fingers. Carpal tunnel syndrome is typically job or hobby related. Read more about carpal tunnel syndrome here.

Repetitive motion syndrome – used to describe symptoms such as swelling, pain or tenderness that occur from repeating the same motion over and over.
Tendon pain/tendinitis – a symptom of tendinosis, a series of very small tears (microtears) in the tissue in or around the tendon. Common symptoms in addition to tenderness and pain include decreased strength and movement in the affected area.
De Quervain's disease – can occur in the wrist and hand when tendons and the tendon covering (sheath) on the thumb side of the wrist swell and become inflamed.
INJURY:
Strains and sprains – often resulting from physical activity. Strains and sprains are very common and can range from minor to severe.
Dislocation – bone has moved, and is no longer where it should be.
Fracture – a broken bone.
ARTHRITIS:
Arthritis is inflammation of one or more joints. A joint is the area where two bones meet. Arthritis involves the breakdown of cartilage. Cartilage normally protects a joint, allowing it to move smoothly. Cartilage also absorbs shock when pressure is placed on the joint, such as when you walk. Without the normal amount of cartilage, the bones rub together, causing pain, swelling and stiffness.
Approximately 350 million people worldwide suffer from arthritis. Almost 40 million Americans are affected by arthritis, this includes a quarter million children!
There are over 100 different types of arthritis. Of the many types of arthritis, the most common are:
*Rheumatoid arthritis:
An autoimmune disease that causes joint problems.
It occurs when the body's immune system, which normally protects its health by attacking foreign substances (viruses, bacteria), mistakenly attacks the joints.
The most common symptoms include pain and joint inflammation, and many people experience loss of appetite, fatigue and a low fever.
Approximately 2.1 million Americans are affected by rheumatoid arthritis.
*Osteoarthritis (aka degenerative joint disease or "wear and tear" arthritis):
The most common chronic condition of the joints.
It strikes when the cartilage or cushion between the joints breaks down, thus causing swelling, stiffness and pain.
Symptoms include – crooked joints or fingers, swollen fingers, achy or stiffness, most commonly first thing in the morning or after resting/sleeping.
Over 21 million Americans suffer from osteoarthritis.
INTERESTING FACTS:
In children, most hand and wrist injuries occur while playing sports or from accidental falls.
The risk of finger, hand, or wrist injury is higher in contact sports, such as football, soccer, wrestling, and in high-speed sports, like biking, skiing, snowboarding, skateboarding and in-line skating. Sports that use hand equipment, hockey or lacrosse sticks, racquets, or ski poles increase the risk of injury. Gymnastics and other sports that require weight bearing on the hands also increase the risk for injury.
As adults age they're at a higher risk for fractures and injuries because they lose bone strength and muscle mass as they grow older.
PREVENTION TIPS:
Practice the following prevention tips, and eliminate injury:
Warm up well and stretch before any activity. Stretch after exercising or playing sports, this will keep hot muscles from shortening and cramping.
Perform hand and wrist strengthening exercises.
Reduce the force and speed of repetitive movements in activities like typing, knitting, quilting, hammering, raking, sweeping, rowing or playing racquet sports.
If you're holding an object (a book, playing cards, etc.) for any length of time, change hand positions.
Use your whole hand to hold on to or grasp an object. Gripping only using your thumb and index finger can stress your wrist.
Use safety measures, like gloves, and follow directions for the proper use of hand and power tools.
When using a computer or keyboard, keep your forearms parallel to the floor or slightly lowered, and keep your fingers lower than your wrists. Allow your hands and arms to move freely. Remember the importance of taking frequent breaks to stretch your wrist, hands, fingers, shoulders and neck.
Keep your bones strong.
Avoid falls. Remove clutter and objects from the floor where there is high-traffic.
Sources: WebMD, Health Line, Breaking Muscle, The American Orthopedic Society for Sports Medicine, The Arthritis Foundation
ABOUT MICHIGAN SPORTS & SPINE CENTER:
We're innovative leaders utilizing cutting-edge technologies such as musculoskeletal ultrasounds, PRP, stem cell treatment, and other innovative procedures. Michigan Sports & Spine Center is committed to resolving your pain, not simply masking it. We treat the whole body, not just the injury, and perform preventative treatment so your injury doesn't come back. Our studies prove that Michigan Sports & Spine Center has patient success rates much higher than the national average. We treat everyone from high-profile athletes to your neighbor next door. Our primary focus is getting our patients back into the game of life!