Healing Yourself-The Truth About Regenerative Medicine Seminar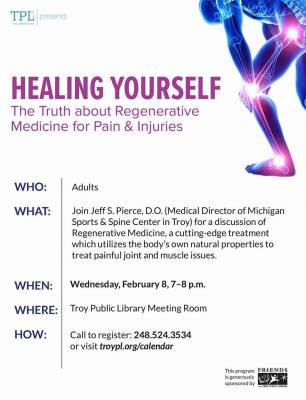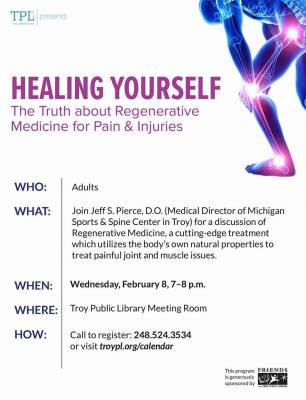 Are you looking for a non-surgical approach?
Join us on Wednesday February 8th from 7-8pm at the Troy Library, Dr Jeff Pierce will hold a seminar on Regenerative Medicine- the medicine of the future . Call the Troy Library at 248 .524.3534 to register today . Limited space
Is Chronic Pain Impacting Your Life? Join us on February 8th or Call Michigan Sports & Spine Center Today to Schedule your Appointment 248-680-9000.
ABOUT MICHIGAN SPORTS & SPINE CENTER:
We're innovative leaders utilizing cutting-edge technologies such as musculoskeletal ultrasounds, PRP, stem cell treatment, and other innovative procedures. Michigan Sports & Spine Center is committed to resolving your pain, not simply masking it. We treat the whole body, not just the injury, and perform preventative treatment so your injury doesn't come back. Our studies prove that Michigan Sports & Spine Center has patient success rates much higher than the national average. We treat everyone from high-profile athletes to your neighbor next door. Our primary focus is getting our patients back into the game of life!